In today's online world, selling products and services is not a piece of cake. There are a few methods available to sell products online – such as selling products on a marketplace or having your own online store. But both of these options have their pros and cons which makes it difficult for you to select the perfect method to sell your products. In addition, if you own a wholesale business and want to sell your products to retail as well as B2B customers – then there are very limited marketplaces available out there where you can list your products and sell them at wholesale prices. Plus, they charge a small commission fee on every sale you make.
Faire Wholesale is one of these marketplaces that offers you an option to list your wholesale products and sell them to just retailers or distributors. But, as a Faire Wholesale alternative, if you have your own wholesale store then you get complete freedom and opportunities to enhance customer experience and generate more sales.
In this article, we will compare and contrast these two options and help you decide which one is the best for you and your wholesale business!

You can also explore both options and have multiple wholesale stores (on the Faire marketplace and your own store). This will help you reach more interested potential buyers.
Read Also: Shopify Wholesale – All You Need to Know
What is Faire Wholesale?
Faire Wholesale is a B2B marketplace where manufacturers or distributors can list their products on the platform and sell them to retailers and brands at wholesale prices. The Faire's website caters specifically to businesses, so you will need to create an account and provide some information about your company before you can start listing products.
What kind of features does Faire's wholesale platform offer?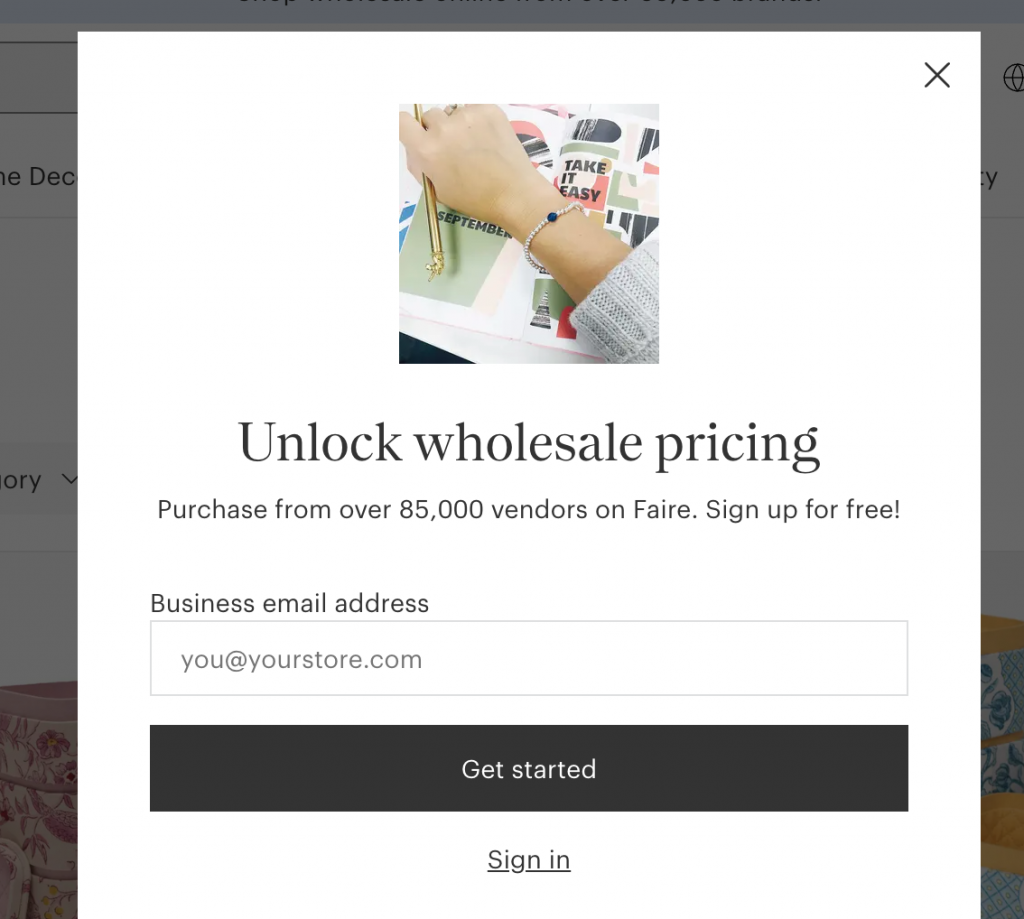 Faire's platform is designed to help brands and retailers find products easily by providing a searchable database of products, as well as offering the following things:
Product curation: Faire handpicks products from different manufacturers and distributors that they think would be a good fit for your business.
Personalized recommendations: Based on the products you've viewed or purchased in the past, Faire will make recommendations of similar products that might interest you.
Trend reports: Stay up-to-date on the latest trends in the industry with Faire's trend reports.

A B2B Store: Using Faire wholesale, you can run a B2B store and sell your products to customers on B2B pricing as well as on net payment terms.
How much does it cost to sell wholesale on Faire?
Faire's wholesale platform is free to use. But you have to pay a certain amount of commission for every new customer you acquire through Faire's wholesale marketplace. The commission fees are 25% on opening orders and 15% on reorders. However, Faire doesn't charge any commission for purchases from your existing customers.
What are the pros and cons of selling on Faire?
Here are the Pros and Cons of selling on Faire:
PROS:
There is no need to create and manage your own website.
Faire takes care of all the payment processing and shipping for you.
CONS:
You will need to provide extensive information about your products upfront.
You won't be able to reach a larger set of audience or potential buyers.
There is a commission fee of 15-25% on each sale that you make.
What are the pros and cons of having your own wholesale store?
Here are the Pros and Cons of having your own store to sell products at wholesale prices to your customers:
PROS:
You own your customer list. They are your customers so you can market and engage them how you think is best with things such as remarketing on Google or Facebook or sending them email newsletters.
You have complete control over your product listings and pricing.
You get to keep 100% of the profits from each sale. (There may be a small credit card transaction fee)
You can engage customers with your branding and probably receive repeat orders from these customers.

CONS:
You or your team will have to acquire customers from outreach, networking, trade shows, SEO, Advertising, etc.

It can be a bit technical and time-consuming to create and maintain your own website.
Now that we've gone over the pros and cons of each option, let's take a closer look at some of the key differences between selling on a marketplace and having your own online store.
Selling on Faire vs having your own wholesale store
Here are the key differences between running your Wholesale store on the Faire marketplace and having your own customizable store:
#
Selling on Faire Wholesale
Having your own wholesale store
1
It's a marketplace to sell your products to other businesses.
On your own store, you can sell products to both B2C as well as B2B customers.
2
Since Faire is a marketplace that caters to multiple wholesale businesses and earns commissions on each sale that you make, it stores all your new and existing customer information on their platform and may use that data to market other niche products as well.
Your customer data stays with you to maintain your store's privacy and security.
3
No need to build and maintain a website. Create a Faire account, add your products, and start selling.
You can easily set up and run your own wholesale store by choosing an e-commerce platform like Shopify, WooCommerce or Magento.
4
Limited customization options such as brand colors and fonts.
Flexible to do any kind of customization to your store and branding according to your needs.
4
15-25% commission fee on every order or sale.
No commission fees.
5
Default payment processing method.
You can use any kind of payment processing method your e-commerce vendor offers.
6
Default shipping rates are set by Faire. Resource Link
You can set your own shipping rates according to your courier partner(s).
7
You will have to provide the required information about your products to be able to sell them on Faire.
With your own store, you get complete control of your product pricing and discounts.
8
You'll be competing with other businesses selling similar products on Faire. This means competitors may get in front of your potential customers.
This allows you to create a unique customer experience that reflects your brand identity and helps you stand out from the competition.
9
Very less or no customization options or marketing opportunities to promote your products and business.
More customization options and marketing opportunities to promote your products and business.
10
Less customer retention options as compared to having your own wholesale store. For example – you don't get 3rd-party apps or plugins to seamlessly integrate with your Faire account and run, for example, a customer loyalty program or VIP rewards, etc.
Having your own store gives you the ability to build long-term relationships with your customers and offer them loyalty rewards or other incentives to keep coming back.
11
Faire does not list products that retail above $1000.
No restrictions here on the maximum retail price for products. You can choose to set any price.
12
Faire will only list the following products:
https://www.faire.com/support/articles/360015893192
No restrictions here on selling any type of product. But, if you're using a specific platform to run your wholesale store, you might be restricted to selling specific products.

(For example – Shopify: https://help.shopify.com/en/manual/markets/markets-pro/prohibited-items)
13
According to Faire's pricing policy, you cannot price your product higher on the Faire marketplace if you've listed the same product at a less price on other marketplaces or channels.
You can price your products at any amount. Less or more!.
14
You can only set product-specific or entire-store discounts and tiered pricing. You don't get to display wholesale discounts to a specific set of customers.
Resource Link
More Flexible options to display wholesale discounts or pricing types such as % discounts, volume discounts, tiered-based discounts and individual variant pricing, discounts based on customer tags, etc.

Comparison – Faire Wholesale VS Your Separate Wholesale Store
Platforms you can use to create and run a wholesale store
There are many e-commerce platforms available in the market where you can sign up and create a customized wholesale store according to your requirements.
Here are some of the best e-commerce platforms you can choose to create your wholesale store:
WooCommerce
Magento
Prestashop
and more…
Read Also: B2B Ecommerce – What, Why, and How (A Complete Guide)
Which option is better for me?
If you are looking for an easy and low-cost way to get started selling online, then selling on Faire's Wholesale Marketplace is a good option. However, if you want more control over your customer list, branding and marketing of your products, then having your own wholesale store is the better choice.
What are your thoughts on selling on Faire Marketplace or having your own wholesale store? Let us know in the comments below!
FAQs
Faire Wholesale is a popular wholesale marketplace that allows small businesses to discover and buy unique products from independent makers around the world. It brings together thousands of brands, connecting buyers with makers in one convenient platform.
How does Faire wholesale work for sellers?
Faire provides various tools and services to help sellers get the most out of their wholesale business. With Faire, sellers can quickly create an online storefront, access a large customer base filled with retailers looking for unique products, and manage orders quickly and efficiently.
How does Faire wholesale work for buyers?
At Faire, it's simple for buyers to discover items that are perfect for their store. They can peruse an extensive selection of unique products and obtain discounts available only on Faire. Buyers additionally have access to useful features such as ratings, reviews and curated collections, giving them the insight they need to make informed decisions when buying products.
How much does Faire charge to list a product?
Faire does not charge any upfront fees to list a product. Instead, Faire collects a commission of 25% on opening orders and 15% on reorders.
What payment methods does Faire accept?
Faire accepts all major credit cards, as well as PayPal and Apple Pay. Additionally, buyers can also opt for net terms payments which allow them to pay over time with no interest or additional fees.
Is selling on Faire better than running a Shopify wholesale store?
Your brand's needs will ultimately determine the best platform for you. Faire has a wide customer reach, excellent order management tools, competitive pricing and exclusive offers – but selling wholesale on Shopify also provides customization options, integrations with other systems as well as more comprehensive support services. Consider your objectives carefully to decide which one is right for you.