Shopify has become one of the most popular shopping platforms in recent years. It's simple to set up and use, which makes it the go-to platform for SMEs and entrepreneurs to launch their eCommerce businesses. One of the benefits of using Shopify is that you can set up a wholesale section on your site very easily using a b2b app and run a Shopify wholesale store. This is a great way to offer discounts to bulk buyers or to sell products in larger quantities.
In this guide, we'll take a look at everything you need to know about setting up wholesale on your Shopify store.
Let's get started!
What is wholesale?
In simple terms, wholesale is when a business sells to another business (who in turn, sells to the consumer). The wholesaling of goods or services is done between two parties in large quantities at a lower price than retail. Wholesale is important because it allows businesses to save money on purchases and increase their profits.
What is Shopify?
Shopify is an eCommerce platform and content management system (CMS) that helps businesses create and run their online shopping store with ease. It offers a wide range of features including, easy customization options for product listing, a variety of themes for every industry segment, seamless integration with payment gateways, and much more. Currently, there are over 2 million businesses from 175 different countries running their sites on Shopify.
Does Shopify Support Wholesale?
Yes! Shopify offers a wholesale marketplace known as "Handshake" where you can sell products on wholesale. But, if you want to run wholesale operations from your existing store then you have to upgrade to Shopify Plus, which gives you this functionality. Or you can simply use a Shopify wholesale app and sell products in larger quantities to your B2B wholesale customers.
How does Wholesale differ from Dropshipping?
Dropshipping is a type of business where you can sell multiple products to your customers without the need of managing a physical inventory. Whenever a customer buys a product from your online dropshipping store, the supplier you partnered with will fulfill that order on your behalf which also includes the packaging and delivery of that product. Your profit margin in terms of money is solely based on the wholesale custom pricing you get from the supplier and how much you sell to your customers. Dropshipping is a good business model where any individual can start a business with a very little amount of resources.
On the other hand, Wholesale is a type of business where you buy a large number of required products for your physical inventory from a direct manufacturer or supplier and sell those products to your retail customers in bulk (with higher pricing). Wholesale businesses typically target other businesses that are ready to buy products at wholesale prices. Wholesalers can also sell directly to consumers.
A few Shopify wholesale store examples…
Now that we know what Shopify is and how wholesale works, let's see some successful Shopify wholesale store examples that sell products in bulk.
Example 1: Mud Hole
Mud Hole is the world's largest supplier of rod xing and tackles crafting products. It offers fishing rod building kits, road blanks, wrapping threads, fishing gears, etc.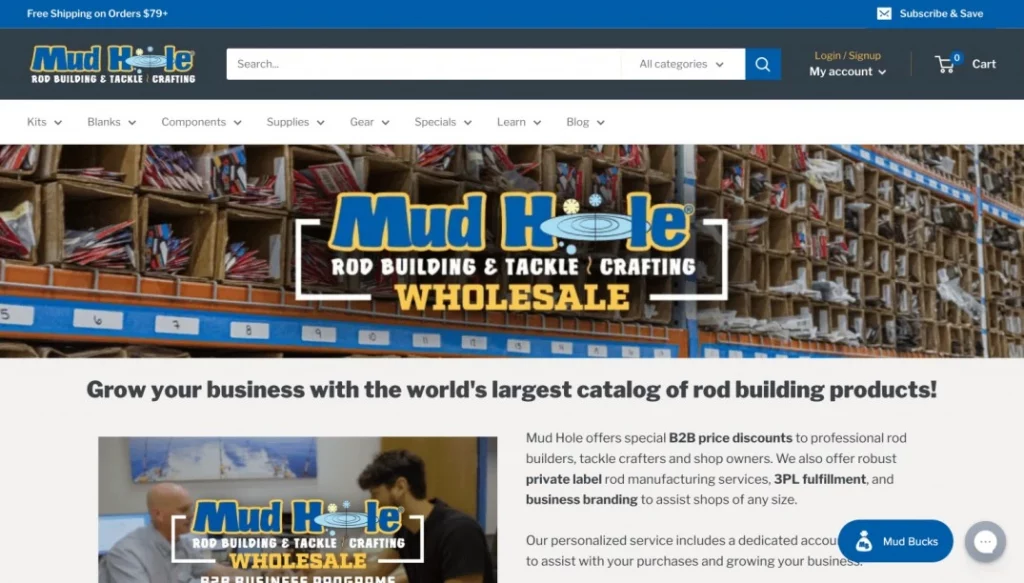 The company offers discounts for bulk purchases and has a dedicated page on its website for wholesalers.
Example 2: Team Spyder
Team spyder is a Philippines-based bike wearables and accessories company that sells helmets, gloves, sunglasses, jackets, spare parts, etc.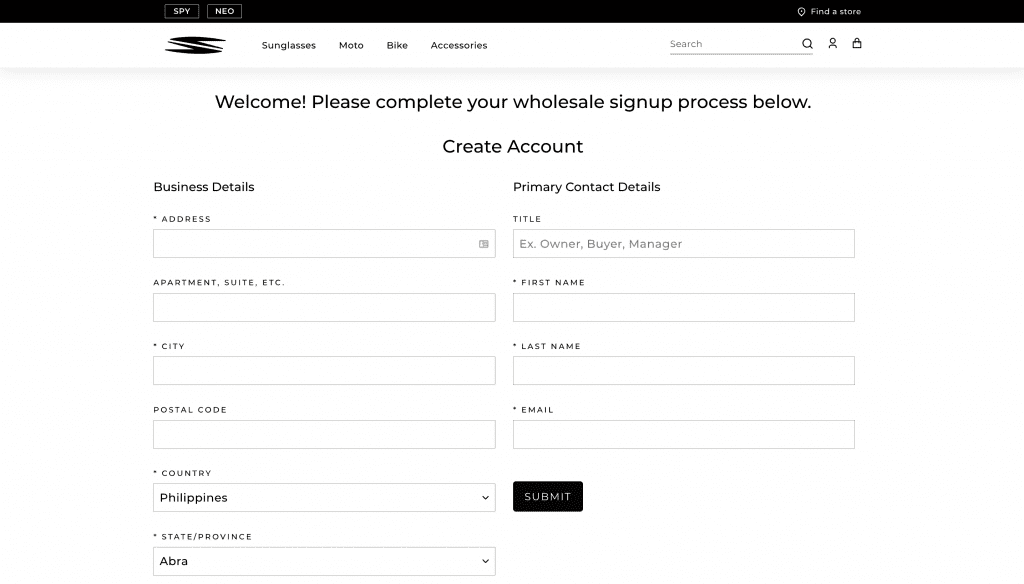 The company offers discounts on bulk purchases and has a wholesale signup form on its website.
Example 3: The Nut Garden
The Nut Garden is an online food company that sells candy jars, nuts, chocolate, cookies, etc.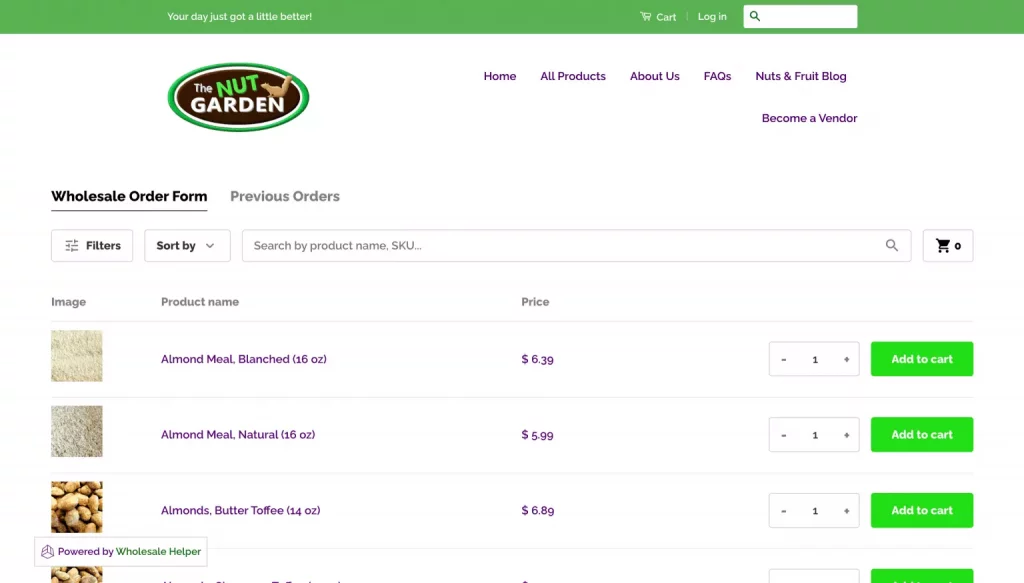 The company offers discounts for bulk purchases and has a wholesale order form on its website.
Example 4: Mandrn
Mandrn sells genuine and handmade leather bags on their beautifully designed online Shopify store.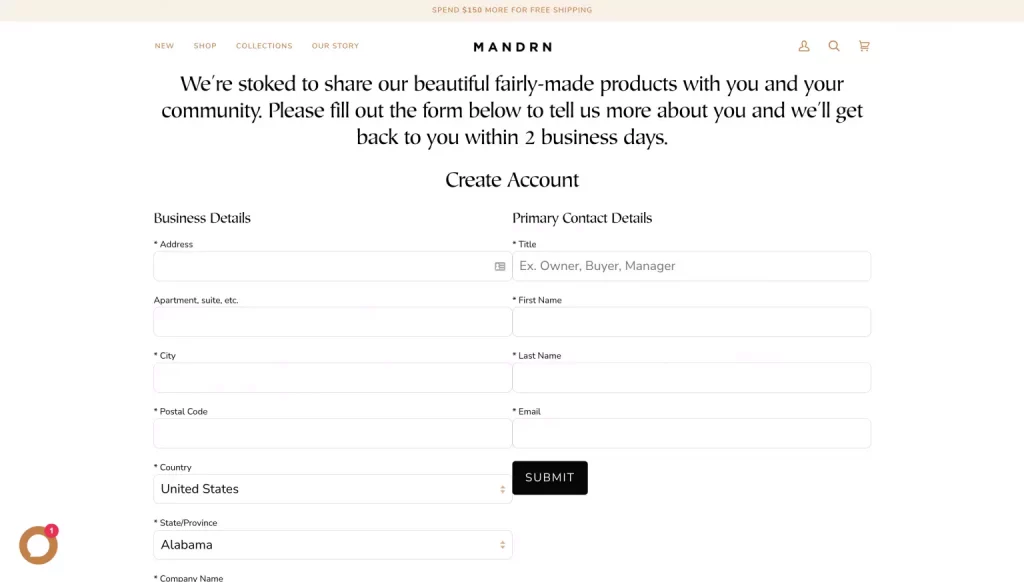 They offer some great wholesale deals for their products. But first, B2B customers have to sign up for their wholesale program by filling out a form that is available on Mandrn's site.
Want to see how your store will look after applying wholesale discounts?
Experience the Wholesale Pricing Discount Demo store
Why Shopify Wholesale is best for you?
Selling wholesale on Shopify is a great way to grow your business. With Shopify, you can easily set up the wholesale experience with custom pricing information, wholesale invoicing and product descriptions. In addition, Shopify also offers many customizable options for creating a good-looking eCommerce store with available theme options, easy payment gateway/checkout integrations, and other amazing features.
With the variety of Shopify discount apps available for wholesale, you can install them and easily transform your current store into a wholesale store and sell products in bulk to your customers. These wholesale apps can offer you many features such as a custom wholesale order form, the option to display wholesale pricing, flat pricing, and a percentage discount for each product in your store.
Shopify wholesale can be a great way to grow your existing Shopify store since it lets you expand your product line without needing to do any extra work yourself. You might also want to find new suppliers and offer more products at lower prices, or sell through channels outside of your website—like retail stores or marketplaces like Amazon.
Read Also: B2B Ecommerce – What, Why, and How (A Complete Guide)
How to sell wholesale on Shopify? – 6 easy steps
If you're ready to set up and start selling wholesale on Shopify, follow these six steps.
Step 1: Prerequisites
To create a wholesale section on your Shopify store, you will need to have the following:
1. A Shopify account
2. A domain name
3. Wholesale products to sell
4. Payment gateway integration
If you don't have a Shopify account yet, you can sign up for one here. You will also need to select a domain name for your store and purchase products from your suppliers. Shopify also offers a 14-day free trial, so you can try out the platform before you commit to it.
If you already have a Shopify store, you can skip this step.
Step 2: Select a theme and create your store
If you've signed up and are ready to go then it is now time to select a theme for your store. Shopify offers a wide range of themes for almost every product category, so you're sure to find one that fits your brand. Once you've selected a theme, you can create your store by adding your products, descriptions, and images.
Step 3: Decide wholesale prices for products
Once you've created your Shopify store, you need to decide on wholesale pricing for the products.

Wholesale pricing is the price that wholesalers charge for products. Wholesalers typically buy products from suppliers in bulk and then sell those products to customers at a higher price.

When deciding a wholesale price for a product, you need to consider your cost, your markup/margin, and your target market. You also need to make sure that your price is competitive. 

If you're selling trending products, you may want to sell those products at a higher price. However, if you're selling products that are in low demand, you may need to charge a lower price.

The best way to set a wholesale price for a product is to work with your supplier or manufacturer. Your supplier will be able to tell you how much it costs them to produce the product. Once you know your cost, you can add your markup and arrive at a price that is fair for both you and your customers.
Step 4: Accept wholesale orders
Now that you've enabled wholesale pricing, you need to set up a way to onboard wholesale customers and accept wholesale orders. You can do this by creating a dedicated page or a custom Shopify order form for wholesalers with product information and pricing. You can also use the Shopify wholesale application form app to automate your wholesale orders.
Step 5: Lock or hide pages
Once you've set up your wholesale order process, you may want to lock or hide certain pages on your website. For example, you may want to hide your pricing page from retail customers. Or, you may want to lock your wholesale order form so that only wholesalers can access it. There are a few different ways to lock or hide pages on Shopify. You can also use a wholesale lock manager app to do this. 
Step 6: Use a wholesale app for your Shopify store (Shopify wholesale without Plus plan)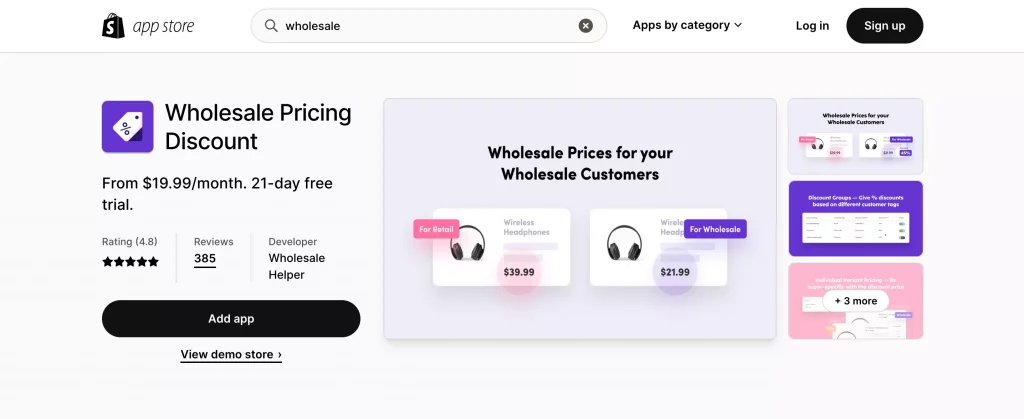 If you already own a reputed Shopify wholesale store or just started to sell products, and you don't want to upgrade to the Shopify Plus plan, you can easily add a wholesale app to sell in volumes to your B2B customers. Wholesale apps automate the process of selling wholesale on Shopify and offer features like volume discounts, custom catalogs, and order management.

The best way to find a wholesale app for your Shopify store is to search for a "wholesale app" in the Shopify app store. You can also ask your supplier if they have a preferred wholesale app.

Once you've found an app that you like, you can install it on your Shopify store and start selling wholesale!
Read Also:
6 Best Shopify Wholesale Apps
Wholesale apps make it easy to sell wholesale on Shopify. Here are six of the best Shopify Wholesale or Shopify-plus Wholesale apps:
1. Wholesale Pricing Discount
Wholesale Pricing Discount app is one of the best wholesale apps for Shopify store owners that want to integrate wholesale experience in their stores. The app offers many good features such as custom pricing, a minimum quantity discount, set flat price for products, a wholesale signup form, etc. making it a complete B2B wholesale solution.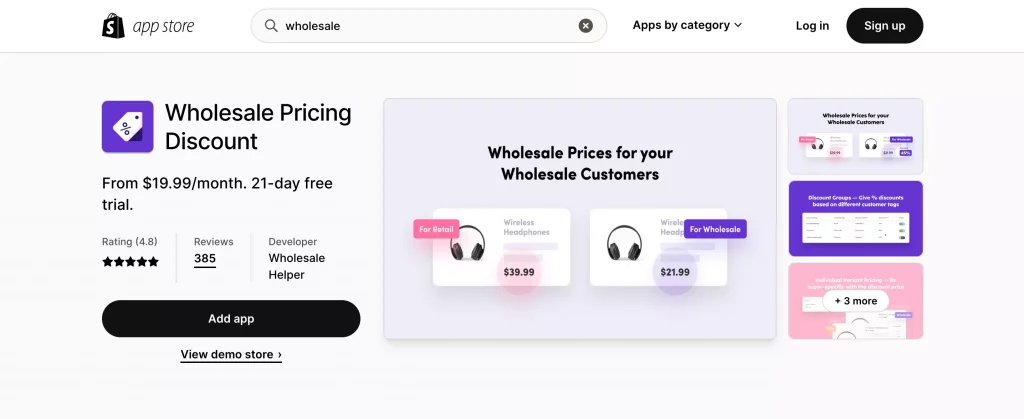 Features
Discount groups
Individual variant discount
Wholesale signup form
Offer net payment terms
Pricing
21-day free trial is available
Basic plan – $19.99 per month
Professional plan – $34.99 per month
Enterprise plan – $44.99 per month
2. Wholesale Order Form
With Wholesale Order Form, you receive an interface to take custom orders from your wholesale or b2b customers. This app offers you many useful features such as total customization of form fields, adding barcodes, and SKUs, set increment quantity per '+' click for product add to cart, and much more.

Features:
Take bulk orders
Repeat order or update past orders
Set minimum, maximum, or qty. increments for products
Customize the order form to match your website
Pricing:
8-day free trial is available
Basic plan – $12.99 per month
Professional plan – $19.99 per month
Enterprise plan – $24.99 per month
3. Wholesale Lock Manager
Wholesale Lock Manager allows Shopify store owners to lock or hide pages on their store. It also offers other features that can make the store or specific pages password protected.

Features:
Hide or lock products from your retail customers
Show products to only selected customers, logged-in users, and visitors with a passcode
Lock products, collections, pages, specific URLs, and the entire store
Hide product prices from website visitors and users
Pricing:
8-day free trial is available
$6.99 per month
4. Wholesale Club
Using Wholesale club, store owners can add wholesale functionality to their stores and show custom pricing to signed-in customers.

Features:
Login to see wholesale pricing
Create discounts connected to customer tags
Create multiple discount groups
Hide product prices from website visitors and users
Shopify POS compatible
Pricing:
30-day free trial available
Basic plan – $29 per month
Professional plan – $59 per month
5. Wholesale Pricing Now
This app allows store owners to create discount groups and offer tiered pricing for their products.

Features:
Display tiered pricing table for products
Display upsell offers to wholesale customers
Create wholesale discounts
Offer net payments
Pricing:
14-day free trial available
Free plan
Shopify Basic plan – $14.95 per month
Shopify Standard plan – $24.95 per month
Shopify Advanced plan – $39.95 per month
6. Wholesale Gorilla
The Wholesale Gorilla app is designed to provide a wholesale experience to the store owners. This app also offers features such as wholesale pricing and order management and more.

Features:
Override shipping of retail settings with wholesale shipping
Quick order form
Hide products from wholesale/retail customers
Place an order and pay later
Wholesale registration form
Pricing:
30-day free trial available
Standard plan – $39.95 per month
Professional plan – $129.95 per month
Read Also: 10 Must Have Shopify Discount Apps For Your Store
How can WholesaleHelper help?
Wholesale Helper is a comprehensive B2B Shopify wholesale solution that offers a suite of Wholesale apps to eCommerce merchants who run their stores on Shopify.
Here are the Shopify Wholesale apps provided by Wholesale Helper:
Wholesale Helper has helped set up wholesale experiences for over 8000 customers.
Summing Up…
Selling wholesale on Shopify can be daunting for many, but with the right set of tools and guidelines, it becomes much easier. By choosing a wholesale app that is designed specifically for Shopify stores, you'll have all the help you need to manage your inventory, orders, and customers. Take some time to research the different options available to you and find the one that best suits your needs.
Don't wait

!
Start selling wholesale, now.
We hope this Shopify wholesale article has answered all your questions regarding selling wholesale in your Shopify store. Let us know in the comments if we missed anything. Thanks for reading! 🙂
FAQs
1. What is Shopify wholesale?
Shopify wholesale is a term known for selling B2B or wholesale products on an e-commerce store that runs on Shopify platform.
2. What are the benefits of using Shopify wholesale?
Running a wholesale store on Shopify helps you connect with businesses that are interested in your products and sell products in bulk quantities to them so that your business make more revenue.
3. How do I set up a wholesale store on Shopify?
You can create and run a Shopify wholesale store by either choosing a Shopify Plus plan OR adding a third-party wholesale app like Wholesale Pricing Discount to your store.
4. How do I choose to display discounts to only wholesale customers on Shopify?
You can display discounted product pricing to your specific customers by assigning a specific 'tag' to them. You can find more information on this here.
5. Can I run both retail and wholesale store on a single Shopify store?
Yes! You can sell products to both of your B2B and B2C customers at separate prices on a single store . You can also invite B2B customers to login/sign up as a wholesale customer on your store.
6. What type of discounts and pricing can I offer using Wholesale Pricing Discount app?
With Wholesale Pricing Discount app, you can offer volume discounts, tiered pricing, percentage discount, individual variant pricing, and more.