Offering flexible payment and checkout options to customers on your Shopify e-commerce store is a great way to ensure their transaction process runs smoothly. On the market now, there are so many convenient checkout software and applications such as PayPal and Stripe. However, we believe that one of the most popular methods available right now is Shop Pay – a secure yet straightforward way for customers to shop online seamlessly.
If you're curious about Shop Pay and the advantages of using it, keep reading. This comprehensive guide will cover everything from understanding what Shop Pay is to how you can add it to your Shopify store. Let's get ready to optimize your checkout process with Shop Pay.
What is Shop Pay?
Shop Pay is an accelerated payment processing service/app designed for online stores. It helps reduce the checkout process time by allowing your customers to save their information and complete transactions quickly.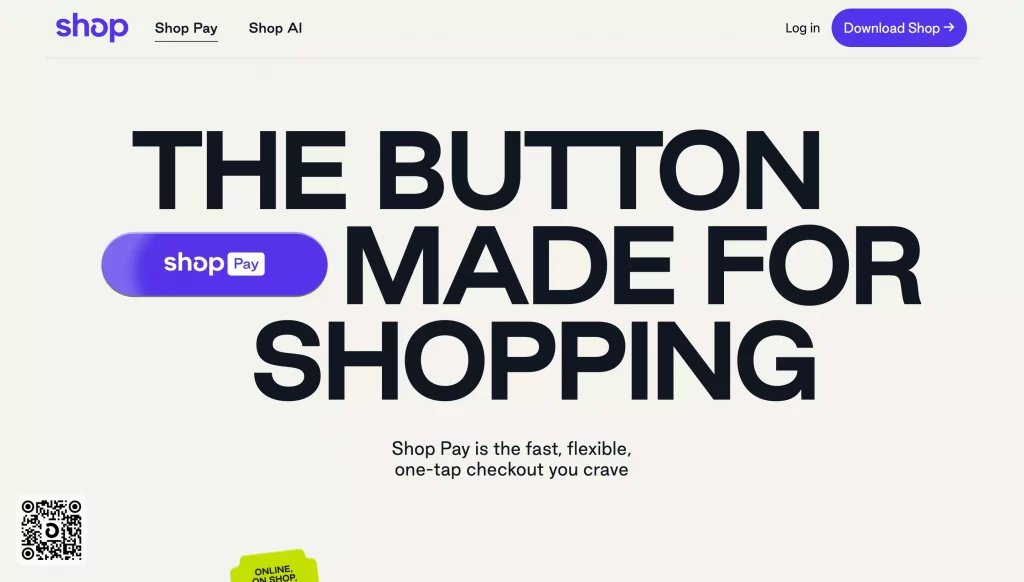 Shop Pay helps you securely store any shopper's shipping and billing addresses, payment options, and order history at one secure storage location. This makes shopping on your e-commerce store more convenient than ever before.
In addition, Shop Pay also offers frictionless checkout experiences including Apple Pay, and Google Pay. So no matter what device or platform you're using, your customers can pay with absolute ease.
Read Also: How To Automate Wholesale Invoicing and Payment Reminders On Shopify Store?
Why do I need Shop Pay?
Shop Pay offers much more than just an efficient checkout process. It also allows you to keep track of your customers' orders, receive payments quickly and securely, and monitor their order status.
Plus, Shop Pay integrates with major e-commerce platforms such as Shopify, WooCommerce and Magento so that it is extremely easy to add to your e-commerce store. And the service comes with no setup fee or monthly subscription cost (excluding commission per transaction).
With and without Shop Pay checkout
In a recent survey of 10,000 customers conducted by Shopify, it was discovered that the Shop Pay-enabled stores had an average checkout-to-order rate 1.72x higher than those not equipped with Shop Pay (regular checkouts). This statistic shows how much value and convenience can be added to any customer experience.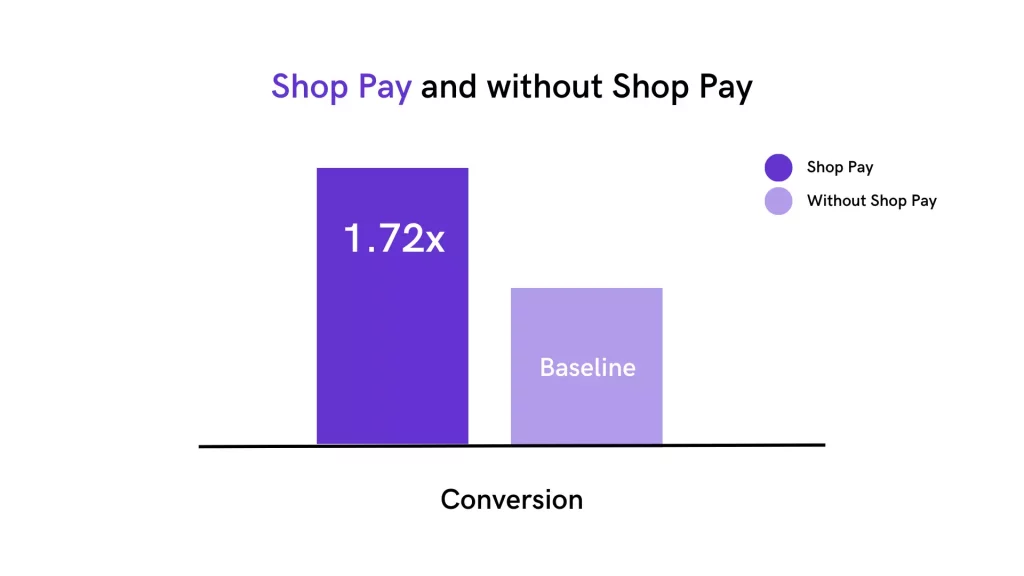 For the desktop, it was 1.56x more conversion rate than regular checkouts.
For the mobile, it was 1.91x more conversion rate than regular checkouts.
Who can use Shop Pay?
Shop Pay is designed to be used by both small and large online e-commerce business owners alike. It's a secure, reliable, and user-friendly checkout service that can be integrated into most of e-commerce stores regardless of its size or scope.
Overall, it's become increasingly popular as more businesses realize the benefits of using Shop Pay on their website. If you are looking for a payment solution that provides your customers with an easy and fast checkout experience, then Shop Pay is definitely worth considering.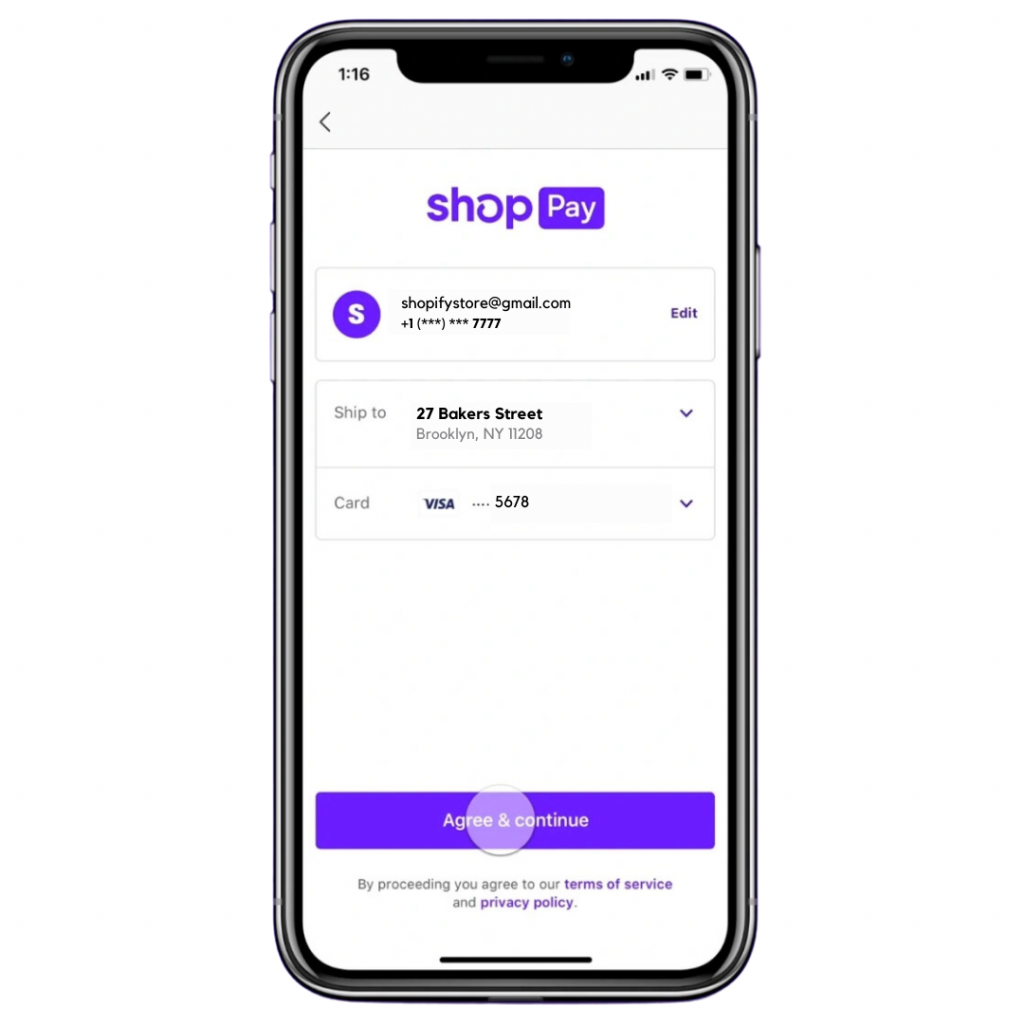 Is Shopify Payments and Shop Pay the same?
No, Shopify Payments and Shop Pay are not the same. While both services offer secure checkout experiences, they are actually quite different in terms of functionality and purpose.
Shopify Payments is a backend merchant service offered by Shopify that allows you to accept payments directly from your customers. It integrates with your online store to handle payment processing as well as refunds, deposits, and taxes.
On the other hand, Shop Pay is an external checkout experience that allows customers to save their personal information for quick checkout on any e-commerce store. It also offers one-click payment methods such as Apple Pay and Google Pay so customers can complete their purchases without having to enter their card details every time.
Benefits of Shop Pay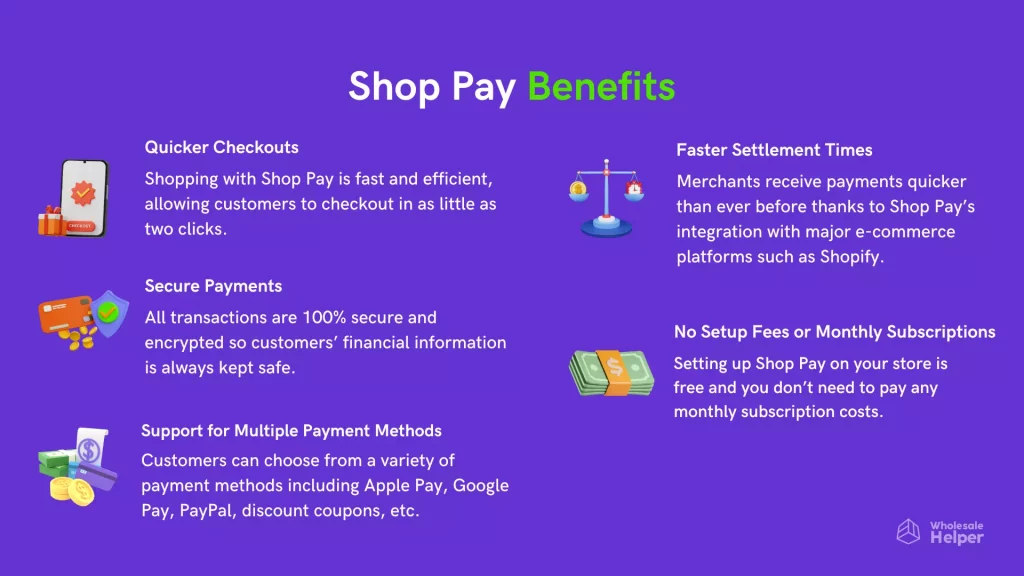 Overall, Shop Pay offers an extremely convenient and secure checkout experience for customers, as well as a range of benefits for online merchants. It's an excellent payment processing solution that can help you increase sales and grow your business quickly and easily.
How to add Shop Pay to your Shopify store? (Step-by-Step)
If you would like to start using Shop Pay on your e-commerce store, follow these simple steps:
#Method 1: If you're using Shopify Payments as the default payment provider and want to add Shop Pay
Steps:
(1) Go to your Shopify admin dashboard and click on Settings.
(2) Go to the Payments tab and activate Shopify Payments.
(3) After you fill in all the required details and activate Shopify Payments, you'll see a Manage button, simply click on it.
(4) Scroll down to Shop Pay and select the checkbox Shop Pay.

(5) Click Save.
If you desire to accept credit cards, but not through Shopify Payments, there are still more than 100 payment providers that can suit the needs of your Shopify store.
#Method 2: If you're using a third-party payment processor and want to add Shop Pay
Steps:
(1) Go to your Shopify admin dashboard and click on Settings.
(2) Go to the Payments tab.
(3) Then go to the third-party payment provider section and click on Manage.
(4) Now, go to Shop Pay and select the Shop Pay checkbox.
(5) Hit the Save button.
(6) In the Shop Pay section, enable it to click on Complete set up.
(7) Finally, save your changes by clicking on the Save button.
What is 'Shop Pay Installments' and how to enable it?
Unlocking exclusive installment payments or offer such as buy now, pay later for your customers is now easier than ever with Shop Pay Installments. To get started, simply follow the easy steps below and you'll be able to give your shoppers flexible payment options:
Steps:
(1) Go to your Shopify admin dashboard and click Settings.
(2) Then go to Payments.
(3) Scroll down to the Shopify Payment section and click on Manage.
(4) Now, go to Shop Pay and select the checkbox to Enable Shop Pay Installments.
(5) Click Save to save your changes.
Buy now, pay later (BNPL) has quickly become a go-to payment method for individuals in the United States and beyond. A whopping majority of US customers have tried payments in BNPL, and almost 10% of ecommerce transactions are completed using it in Australia alone! This service is gaining ground rapidly; the year 2020 saw impressive growth with India and UK leading the charge. Analysts predict that buy now pay later will account for 12% of global ecommerce spend on physical goods by 2025 – making it an essential option you can't afford not to offer your clients.
Prerequisites to enable Shop Pay Installments on Shopify store?
Before you can start accepting installment payments from customers, there are a few prerequisites that must be met:
#a) You store should have both Shopify Payments and Shop Pay activated.
#b) Your store should be based in the US and should accept payments in USD.
How much fee does Shop Pay installments take for purchase on net payment terms?
Shoppers who spend between $50 and $999.99 can take advantage of interest-free, four/biweekly plans; while those spending over $150 have the option to spread their payments out every month at an APR rate ranging from 10% – 36%. Purchase amounts determine whether customers can pay in three, six, or twelve months.
Features of Shop Pay
1. Instant Checkout
Customers can complete their purchase in just two clicks with Shop Pay's instant checkout feature.
2. Autofill Shipping and Billing Details
Shop Pay remembers customers' shipping and billing details so they don't have to enter them every time they purchase something from your store.
3. Multiple Currency Support
Shop Pay is available in multiple currencies, allowing customers from all over the world to shop on your store without any difficulty.
4. Seamless Integrations
Shop Pay integrates with popular e-commerce platforms like Shopify, making it easy to set up and use on your online store.
5. Fraud Protection
Shop Pay utilizes advanced fraud detection technologies to help protect customers and merchants from eCommerce fraud.
6. Local pickup and delivery
If you're offering local pickup or delivery to your customers then they shall be able to opt for it when they checkout with Shop Pay.
7. Installments
Shop Pay also offers your customers a convenient way to purchase your products in weekly, bi-weekly, or monthly installments.
With these features, Shop Pay makes it easier than ever for merchants to offer a secure and convenient checkout experience to their customers. Whether you're just starting out or already have an established online store, it's definitely a payment processing platform worth considering.
Shop Pay vs PayPal vs Stripe vs After Pay
#
Features
Shop Pay
PayPal
Afterpay
Stripe
1
Instant checkout
Yes
Yes
Yes
Yes
2
Installment/net terms/
buy now, pay later
Yes
Yes
Yes
Yes
3
Commission fee
For Shop Pay Installments: 5% to 6% fee on each transaction
2.9% of the transaction amount in the United States plus a fixed fee based on the currency. For sales outside the US, the rate rises to 4.4% plus currency fees.
A $0.30 flat fee and a variable 4-6% commission rate per transaction
2.9% + 30¢ / card charge + 0.5% for manually entered cards +1.5% for international cards* +1% if currency conversion is required
4
Multi-currency support
Yes
Yes
Yes
Yes
5
Seamless integration
with platforms
Limited
Possible
Possible
Possible
6
Fraud protection
Yes
Yes
Yes
Yes
7
One-click payment for
repeat customers
Yes
Yes
Yes
Yes
8
Supported countries
23
200
5
47
9
Supported languages
22
English + one 1 local language of your country
English
34
10
Supported currencies
AUD, NZD, CAD, or USD
25
USD, CAD, GBP, AUD, NZD, or EUR
135+
Comparison table of Shop Pay vs PayPal vs Stripe vs After Pay
Read Also:
It's important to note that each payment processing platform offers different features and benefits so it's best to research them all before deciding which one is right for your business needs. In any case, Shop Pay is certainly a great option if you're looking for a fast and secure way to accept payments from customers. Plus, it's already integrated with Shopify, so you can get started right away.
Conclusion
With its secure checkout process and flexible payment options, Shop Pay is certainly one of the best payment processing platforms out there. So if you're looking for an efficient way to accept payments from customers, then Shop Pay should be your first choice. We recommend you to try it out and see for yourself how easy and convenient it is.
You can find more information about Shop Pay on the official website or look at their help center articles if you have any queries.
FAQs
Shop Pay is a secure payment tool that stores your credit card and shipping information so you can check out faster on participating websites. This innovative method was created by the leading ecommerce platform provider, Shopify, to make shopping more convenient for customers while limiting cart abandonment risks.
When shoppers opt for Shop Pay at checkout, they just need to input their credit card and shipping information which will then be securely stored on Shop Pay's servers. As a result, future purchases from any store that has adopted Shop Pay can now be completed with ease – all you have to do is enter your password when it comes time to check out! With this simple step the customer no longer needs to re-enter their payment or shipping details yet still benefits from secure transactions every single time.
Is Shop Pay safe and secure?
Yes, Shop Pay is designed to be safe and secure for both shoppers and merchants. Shopify uses industry-standard encryption and security protocols to protect all sensitive information and is PCI-compliant to ensure that credit card data is handled in accordance with the highest security standards.
Can I use Shop Pay on any ecommerce site?
No, Shop Pay is only available on ecommerce sites that have integrated with the Shopify platform and enabled the Shopify payments method. Many popular online stores now offer Shop Pay, including Allbirds, Gymshark, and Kith. If you want to offer Shop Pay for your WooCommece store customers then you will first need to add a 'buy now';' button with a product display so that it will take your customers to your Shopify and then he/she will be able to purchase that product using Shop Pay.
Are there any fees associated with using Shop Pay?
No, there are no fees for shoppers to use Shop Pay. However, merchants who use Shopify to power their ecommerce store may be charged transaction fees for processing payments through Shop Pay or other payment methods.