In today's technology world, you can easily build an e-commerce store for your business and sell products online. When building an e-commerce store, there are many platforms to choose from. Two of the popular ones are Shopify and Etsy. These two platforms are the preferred choice of a majority of small and medium-sized businesses to run their store and sell their products online to their retail and B2B / wholesale customers. While there are many similarities between Shopify and Esty, there are more differences as well. These differences might be decision-making points for you to decide which platform is best suitable for your online business.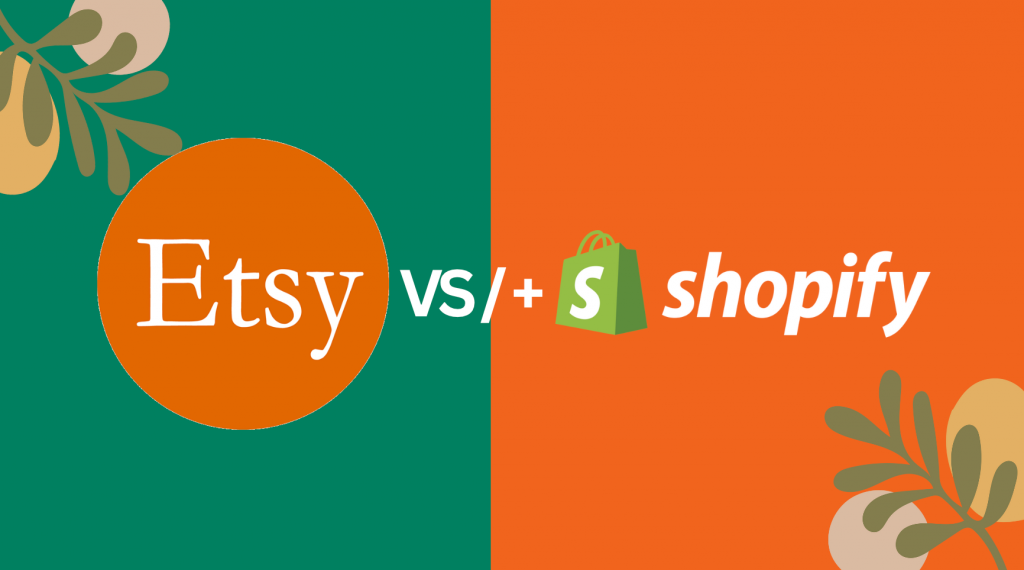 In this guide, we will discuss all about Shopify vs Etsy, including their benefits, challenges, pros, and cons. We will also help you with deciding which one is better for your business and also what happens if you choose to run your online store on both platforms or connect your existing Etsy store with the Shopify platform. So, let's dig in!
Short brief about Shopify and Etsy
Shopify is an e-commerce platform that enables small and medium-sized businesses to create a website with the domain name, build their online store, add products and manage online payments. Shopify also provides marketing services such as setting up ads, creating campaigns, and launching promotions.
Etsy is a marketplace for handmade goods, vintage items, and craft supplies. It allows artisans, crafters, and makers to create an online store for their handmade products. It uses a commission-based model where the sellers pay Etsy some fee on every item sold.
Read Also:
What are the benefits of selling on Shopify and Etsy?
Shopify
• Easy to setup and use
• More customization options
• Powerful analytics tool
• Multiple payment gateways integration
Etsy
• Low transaction fees
• Wide range of Etsy users and customers
• Strong community support
Why sell on both Shopify & Etsy?
Reaching out to a larger customer base.
Sync product inventory and save the time of listing on an individual e-commerce store.
Easy categorization of products.
Bulk import of products between two platforms.
You can take advantage of the specialized marketplace offered by Etsy and use Shopify as your main store for retail customers.
This will also allow you to combine the marketing channels used by both platforms for increased visibility of products.
What are the similarities between Shopify and Etsy?
Both Shopify and Etsy offer features such as an easy-to-use platform, secure payment options, automated shipping services, marketing tools & analytics. They also provide support for their customers and help them with any technical queries.
What are the differences between Shopify and Etsy? (Shopify vs Etsy)
Customization Options
One of the main differences between Shopify and Etsy is that Shopify focuses more on custom stores and allows users to design their own stores. On the other hand, Etsy focuses more on the marketplace and provides a platform for artisans, crafters, and makers to sell their products with limited customization options.
Product Categories
Shopify supports all types of products whereas Etsy is mainly focused on handmade or vintage items.
Transaction Fees
Another difference between Shopify and Etsy is that Shopify offers lower transaction fees while Etsy has higher transaction fees. Also, Shopify does not charge any listing fee while Etsy charges 0.20 USD for each item listed in the store.
Shopify charges transaction fees ranging from 0.5-2% per transaction while Etsy charges 6.5% of the listing price plus the amount you charge for delivery and gift wrapping. 
Store Analytics
Shopify offers a robust analytics tool to monitor your store's performance while Etsy has limited web analytics capabilities. You can also add 3rd party Shopify apps to track visitors to your store and see their interactions on your product pages. While Etsy only allows you to connect your store to Google Analytics to see the traffic and conversion insights.
Advertisements / Ad Campaigns
Etsy as an e-commerce marketplace allows its store owners (sellers) to display product ads on certain areas of the entire marketplace such as Etsy Search, Category Pages, and Market Pages on both Etsy.com and the Etsy app. While for your Shopify store, you can choose to display your product ads or run ad campaigns on platforms like Facebook, Google, TikTok, and Pinterest.
Email Marketing
You can market your products via email to both your Shopify and Etsy customers using an email marketing solution. But the Shopify platform offers a more customized way to email your customers for a specific action taken by them on your stores such as abandoned cart emails, re-engagement emails, order confirmation emails, and more. While Etsy also offers three types of customer follow-up emails like Abandoned cart, Recently favorited and Post-purchase thanks emails.
Read Also: Shopify Marketing – All You Need To Know
Payment Gateway Integration
In addition, Shopify provides more flexibility when it comes to payment options and allows users to integrate multiple payment gateways into their stores. Whereas, Etsy supports only limited payment gateways such as PayPal, Apple Pay, etc.
Community
Shopify provides its own community forum which allows merchants to connect with other Shopify users and experts. Whereas, Etsy has a dedicated team of sellers called the Etsy Success Team which offers support and advice to Etsy store owners. Etsy also offers a seller handbook with best practices for sellers on its website.
Which one is better for your business? – Shopify vs Etsy
The answer to this question depends on the type of products you are selling and the size of your business. If you are selling handmade goods or vintage items then Etsy would be a better option as it offers a specialized marketplace for these goods.
On the other hand, if you are planning to set up your own custom store and sell products to retail as well as wholesale customers then Shopify would be a better choice.
Can I integrate my Etsy store with Shopify?
If you have an existing Etsy store and want to expand your presence by creating a custom store on Shopify, then it is possible with the help of apps provided by both platforms. These apps can help you in connecting your existing Etsy store with Shopify so that customers can purchase products from both stores at once. This will also allow you to manage orders, shipping, payments, and inventory from one place.
How can I integrate Shopify with Etsy? (step-by-step)
You can easily connect your Shopify store with Etsy by following these steps:
Step 1: Setup Shopify Store

Get started at Shopify, connect your domain, select a theme, set up payments, and add the products that you want to sell on your Shopify store as well as on other marketplaces like Etsy.

Step 2: Setup Etsy Store

Signup to sell on Etsy and list your products.

Step 3: Add Integration App

Install the Shopify – Etsy Marketplace integration app from the Shopify App Store.

Follow the instructions provided by the integration app to connect Shopify with your Etsy store.

Step 4: Grant Access in Etsy to connect with Shopify Store

Sign in to your Etsy account and grant permission for the app to access it by clicking on Allow Access button.

Step 5: Import/Export Products

Once you have granted permission, select which products from Shopify you would like to add to your Etsy store.

Step 6: Set Shipping Rates

Set up shipping rates for both stores and change currency settings if needed.

Step 7: Select a Payment

Select the payment gateway option that will be used by customers in both stores.

Step 8: Carefully Follow the Instructions provided by Integration App

Follow the further instruction in your Shopify-Etsy marketplace integration app in your Shopify store admin and start selling through both platforms!
Final Thoughts…
Both Shopify and Etsy provide great ecommerce platforms for merchants to sell their products online. Ultimately it comes down to what type of products you are selling and your budget for running an online store. Both platforms offer integration apps that can be used for connecting your Etsy store and Shopify store. This will allow customers to purchase products from both stores at once and also make it easier for you to manage orders, shipping, payments, and inventory from one place.
Overall, before making a decision on which platform to use for an online store it is important to consider the type of products you are selling, your budget, and the features required for running an online store. By doing so you can make a more informed decision on whether Shopify or Etsy / Shopify + Etsy is the best fit for your business.
FAQs
What is the difference between Shopify and Etsy?
Shopify is the perfect platform for entrepreneurs looking to launch their own online store and sell a variety of products. If you're crafting handmade, vintage or one-of-a-kind items, Etsy's marketplace was created just for you.
Which platform is better for selling handmade or unique items, Shopify or Etsy?
If crafting and selling one-of-a-kind items is your thing, there's no better platform than Etsy. It comes with a readymade crowd of people who are seeking precisely this type of goods – plus its search technology helps buyers locate new, exciting products.
Can I use both Shopify and Etsy to sell my products?
Yes, you can use both platforms to sell your products. In fact, many sellers use both Shopify and Etsy to reach a wider audience and take advantage of the unique features offered by each platform.
What are the fees associated with using Shopify and Etsy?
Shopify charges a monthly fee according to their plans + charges per transaction (additional fees of 2%, 1% or 0.5% if you're using a third-party payment provider). There's no transaction fee if you're using Shopify Payments.

Etsy charges product listing fees of $0.20 for each item + 6.5% for each transaction or sale + If you want to opt-in Etsy Plus subscription then an additional $10/month.
What kind of support do Shopify and Etsy offer to their sellers?
Both Shopify and Etsy offer a range of support options for their sellers, including documentation and tutorials, community forums, and direct customer support via email, chat, or phone. Shopify also offers a dedicated support team for their higher-tier plans.