According to a recent study, global sales through B2B ecommerce sites will be $20.9 trillion worth by the year 2027. Yes, that's a lot of money! And many businesses are adopting B2B ecommerce at an increasing pace. 
If you are interested to start your own B2B ecommerce business then believe us, this is the right time to hit the road.
To help you get started, we have crafted this detailed guide on B2B ecommerce which discusses what B2B ecommerce is, its trends, and why it is a successful business model. In addition to this, we will also look at the opportunities that exist today in B2B ecommerce and the advantages of doing business online and how you can easily build a B2B e-commerce store and run an online business.
So, let's dig in!
Also Read:
What is B2B Ecommerce?
Simply put, B2B (business-to-business) ecommerce is where a company or a business sells or buys products or services from another company/business through an online medium. This type of ecommerce business usually caters to the businesses that want to buy products in volumes. For example, company X buys a large quantity of wood from company Y and then crafts that wood into a table to sell to direct consumers.
The B2B ecommerce industry has been rapidly expanding and shows no signs of slowing down. According to a recent whitepaper by shipping and delivery giant DHL, by 2025, 80% of total b2b purchases will be done digitally.
Now, let's take a look at some more trends that are shaping this industry in 2022.
Top B2B Ecommerce Trends for 2023
The following are some of the top trends that are impacting B2B ecommerce in 2023:
The move to digital: In 2023, more and more businesses are moving to digital channels for their B2B ecommerce needs. This shift is being driven by the COVID-19 pandemic. In the last 3 years, the industry has seen many businesses re-evaluating their brick-and-mortar operations.

The enhancements in AI technology: Artificial intelligence (AI) is playing an increasingly important role in B2B ecommerce. It is helping businesses to personalize the online shopping experience for customers and recommend products and services they may be interested in.

The growth of mobile commerce: Mobile commerce is another trend that is impacting B2B ecommerce in 2023. With the increase in smartphone ownership, businesses are using mobile apps and websites to sell their products and services.

The rise of social commerce: Social media platforms such as Facebook, Instagram, and LinkedIn are being used more and more for B2B ecommerce. Businesses are leveraging these platforms to connect with their customers and sell products using paid advertisements and organic content.
How B2B is different from B2C Ecommerce?
The major difference between B2C and B2B ecommerce businesses is the type of customers they target.
B2C ecommerce is geared toward consumers who purchase products for personal use. On the other hand, B2B ecommerce is geared towards businesses that purchase products for resale or for use in their business. B2B buyers might also purchase the raw materials in bulk to turn them into goods and then sell these goods to direct consumers.   
Another difference between B2B & B2C ecommerce is the sales cycle. B2C has a short sales cycle than B2B sales. This is because businesses take more time to evaluate products and services when they look to purchase.
And B2B businesses usually order in larger quantities as compared to B2C customers.
Is B2B more profitable than B2C?
There is no straightforward answer to this question as it depends on a number of factors. In general, B2B ecommerce stores are primarily made to sell more products (in higher volumes), whereas B2C (if manufacturer) tends to have better margins since there is no middleman involved to resell.
Why B2B Ecommerce will be more important in upcoming years?
We saw the stats! We know the B2B ecommerce industry will be unstoppable and it will open up a lot of opportunities to increase our business revenue in the future. So, why not grab this opportunity and launch your own b2b ecommerce platform?
There are a number of reasons why B2B ecommerce is the need of an hour for your business such as,
1. It offers a convenient way for businesses to purchase products and services. With B2B ecommerce, businesses can shop for what they need 24/seven without having to leave the office or make phone calls during business hours.
2. It is often more efficient and cost-effective than traditional methods of doing business. For example, businesses can save on costs such as inventory, warehousing, and shipping. In addition, B2B ecommerce provides businesses with the ability to automate their ordering process, which can further reduce costs.
3. B2B ecommerce business can also be more stable because of the repeat orders from the B2B buyers. They will keep coming back and making purchases, to further sell to their customers.
Also Read: What Is Shopify Testing and How To Automate It?
What kind of opportunities in B2B Ecommerce exist today?
There are many opportunities that exist today for a B2B ecommerce businesses.
First, businesses can use their B2B ecommerce platform to connect with potential B2B customers online. This is especially important in today's digital world where more and more people are using the internet to research products and services.
Second, businesses can use their B2B ecommerce platform to sell their products and services in bulk to B2B customers around the world. They can also run wholesale discounts and offers for their B2B customers. This is a great way to expand your customer base and generate new revenue.
Finally, businesses can automate their ordering process and wholesaling experience. This can save time and money by replacing manual order processes.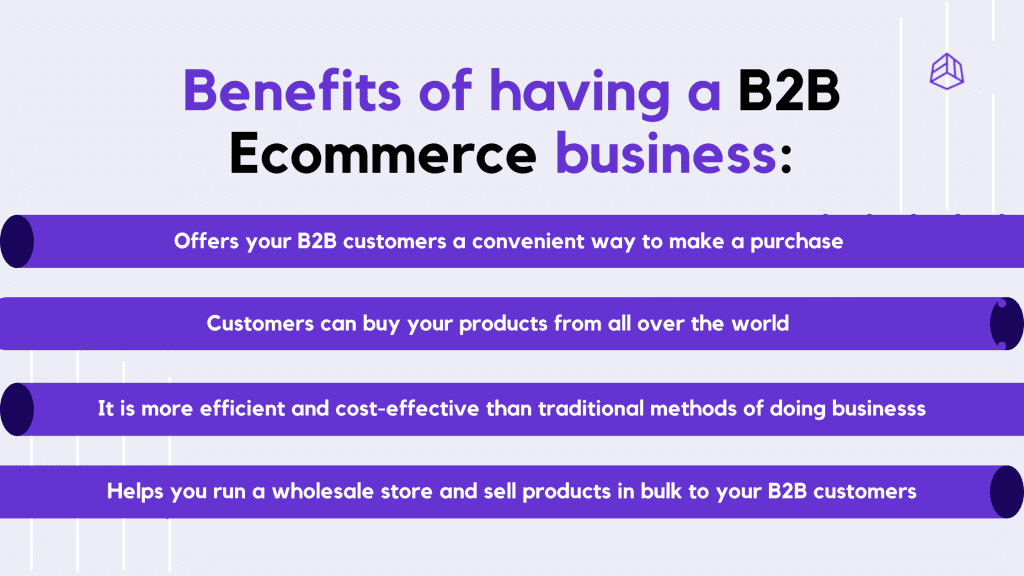 What should I consider before starting my own B2B ecommerce business?
Before starting your own B2B ecommerce business, there are a few things you should consider to achieve success using this business model:
1. You need to determine what kind of products or services you will be offering/selling to your B2B customers. Later, list them on your website / ecommerce store.
2. You need to identify your target market. For example, if you want to sell items such as face masks, hand sanitizers and disinfectant sprays then one of your target markets would be any-sized healthcare companies.
3. Once you know what products you will be selling and to whom, you need to create a marketing plan that will help you reach your target market.
4. Finally, you need to set up an ordering and payment processing system that is efficient and easy to use.
What are the best examples for B2B Ecommerce stores on Shopify?
Mud Jeans is a Netherlands-based clothing company that sells jeans products on its website.
They have a separate b2b section on their website only for the B2B customers that are interested in buying their products in bulk.
Mud Jeans ask their B2B customers to register on the b2b portal first and then display their products at wholesale prices or with discounts applied.
Range Plus provides all the essentials, grocery, beauty, healthcare and other products on their Shopify ecommerce store.
They also sell products on wholesale on their platform by providing a quick order form to other businesses that want to buy products in bulk.
KC Lights is a leading provider of unique vehicle lighting and adventure products. They've been in the industry for the last 50 years, offering a wide range of lights, roof racks, and other car accessories.
They also have a separate partners portal where they invite their B2B customers to register on their portal and shop their products at custom discounted prices.
Read Also: Shopify Wholesale – All You Need to Know
How long does it take to build a B2B Ecommerce store?
It usually takes around two to three weeks (or a month in some cases) to build a basic B2B ecommerce store. However, the time frame can vary depending on the complexity of the store and the number of products/services you're selling.
If you're selling a small number of products, then you can probably get away with a simple one-page website. But if you're selling a large number of products or services, then you'll need a more complex website with multiple pages, product categories, and an easy-to-use shopping cart system.
You'll also need to set up a payment processing system and integrate it with your website. This can take another week or so.
Once your website is up and running, it is important to note that a B2B ecommerce store is different from a B2C (business-to-consumer) online store.
A B2B store usually requires a higher level of customization, as businesses have specific needs that must be met. For example, businesses may need to purchase products in bulk quantities, or they may need to have the ability to pay by invoice.
Additionally, businesses will often need to set up an account with the ecommerce platform provider in order to access wholesale pricing and other benefits. This can add another week or so to the timeline.
In short, it will take some time and effort to build a successful B2B ecommerce business. However, you can speed up the process with the right tools and resources.
What are some common features of B2B ecommerce stores?
There are a few critical features that all B2B ecommerce sites should have, such as:
Easy navigation
Well-designed product catalog
High-resolution product images
Customer account registration
Seamless ordering process
Competitive pricing
Bulk / quick ordering capabilities
Volume or wholesale discounts
Ability to pay by invoice
Option to compare product prices
What is the cost to build a B2B Ecommerce website/store?
The cost of building a B2B ecommerce website varies depending upon a number of factors. These include the size of the website, the features it offers, and the level of customization it requires and much more.
Below, we mentioned the minimum costs for each factor:
| # | Factors | Average minimum cost |
| --- | --- | --- |
| 1 | Domain name | ~$1 for the first year and then $20-$50 from the second year |
| 2 | Web hosting | $10-$30/month (based on the hosting plan you select) |
| 3 | Content Management System (CMS) or Shopping Cart | $4-$50 (per month) |
| 4 | Theme for your store | $30-$60 (one-time) |
| 5 | Website design cost | $20-$50 (per hour) |
| 6 | Basic copywriting + SEO for website | $40-$80 (per hour) |
| 7 | B2B Plugins/Apps/Extensions or 3rd party integrations (if required) | $30-$100 (per month) |
Cost to build a B2B Ecommerce website
After looking at all these factors, you can expect to pay anywhere from $1500-$2000 for a basic B2B ecommerce store. Of course, these costs depend on the type of services and solutions you choose.
If you want to run a B2B ecommerce store without many 3rd party plugins or extensions, you can choose to go for Shopify Plus or WooCommerceB2B. They both have built-in B2B wholesale channels.
What are some growth hacks for B2B Ecommerce stores? / How to increase B2B online sales?
Using social media platforms to drive traffic to your store is still considered one of the best growth hacks for an online business. Make sure to write a compelling caption and design informative creatives that are relevant to your target audience.

Partnering with other businesses in your industry can help you reach a larger audience. Together, you can carry out a joint marketing campaign or educate customers about each other and help them understand the products that you're selling.
Creating informative blog posts and guides about topics related to your business can help position you as an expert in your field. You can also reach out to the industry influencers to read and share your informative content in their network of audiences. By doing this, you'll build more brand awareness and engage your audience to buy more on your platform.
Offer incentives such as discounts, free shipping, or loyalty programs to encourage customers to purchase from your store.

Use data gathered from analytics tools (such as Google Analytics) to identify patterns and trends in the industry.

Use Google AdWords or other paid advertising platforms to reach potential customers who are searching for products or services like the ones you offer.

Make use of email marketing campaigns to reach past, present, and potential customers with special offers or new arrivals.

Improve your store's SEO ranking with on-page and off-page SEO techniques.
By following these tips, you can start to see steady growth in traffic and sales for your B2B ecommerce store. Of course, it takes time and effort to see results, but it will be worth it in the end.
Read Also: 21 Tips to Increase Ecommerce Sales and Revenue
Don't wait

!
Start selling wholesale, now.
Conclusion
B2B ecommerce is a powerful tool for businesses of all sizes. It allows companies to reach new markets, increase sales, and improve customer service.
In order to make the most of this type of commerce, it's important to understand the different aspects involved in the process. We hope that this blog post has helped you do just that.
Are there any other areas of B2B ecommerce that you would like us to cover? Let us know in the comments below!