With the Shopify e-commerce platform, countless entrepreneurs have successfully grown their B2C businesses to new heights. Additionally, there are thousands of specialized B2B stores running on Shopify that offer their customers custom pricing and discounts to their specific types of customers.
A recent Gartner report states that by 2025, the majority (80%) of B2B sales interactions between suppliers and buyers will take place through digital channels. In this article, we will discuss everything about a Shopify B2B store – from what is it to how to build one using different methods such as by upgrading to a Shopify Plus plan or using a third-party Shopify B2B/Wholesale app.
What is a Shopify B2B store?
A Shopify B2B store is an e-commerce site built on the Shopify platform that is specially customized to offer B2B pricing and discounts to a specific set of customers such as wholesalers or retailers.
To operate a successful Shopify B2B store it is important to understand the differences between B2C and B2B customers. Businesses usually make larger orders, have more complex needs and longer purchase cycles than individual consumers. As such, your shop must be tailored accordingly.
Read Also: Shopify Wholesale – All You Need to Know
Is Shopify good for B2B?
Yes, Shopify is a great platform for building B2B stores. It provides all the features needed to manage orders and customers effectively. Additionally, various third-party apps can help you customize your store to meet the needs of your business customers.
For example, with Shopify Plus or a third-party app like Wholesale Pricing Discount, you can set up custom pricing tiers for different customers and allow them to place bulk orders directly from your Shopify B2B store.
How much does a Shopify B2B store cost?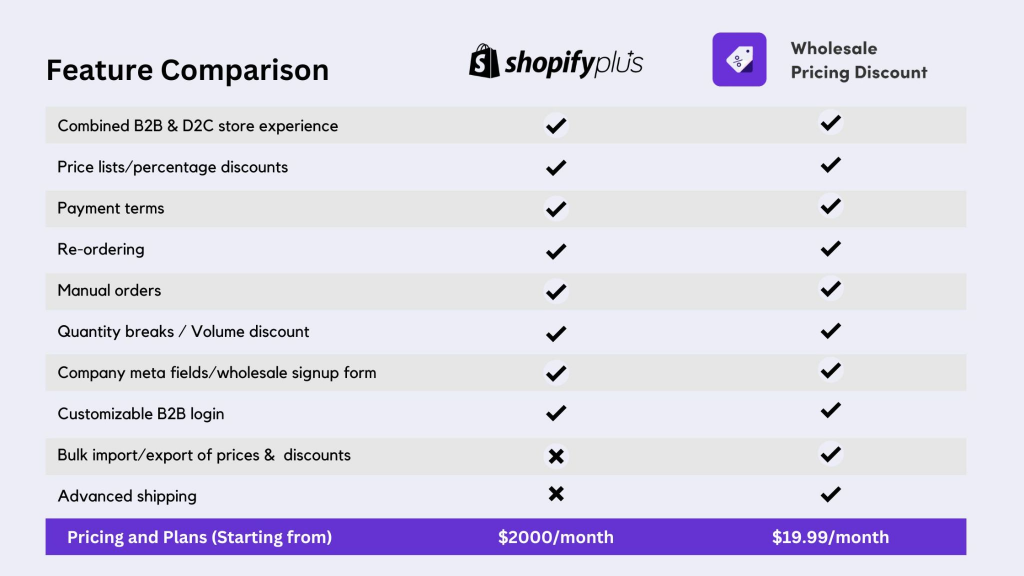 You can create the Shopify B2B experience for your customers either by selecting the Shopify Plus plan or using a third-party app like Wholesale Pricing Discount from the app store.

Now, let's look at the prices for all these:
a. Using Shopify Plus – B2B eCommerce platform
Shopify Plus started offering its B2B features in June 2022. It allowed D2C stores running on the Shopify platform to run a wholesale and retail store from a single Shopify store (without requiring any third-party customization). But upgrading to Shopify Plus may seem costly for store owners that just started their business or making initial profits from their sales.
The Shopify Plus plan starts at $2,000/month
b. Using a third-party Shopify B2B app
If upgrading to Shopify Plus is too much for you then you can also use a third-party Shopify B2B app to create a wholesale experience for your B2B customers. The Shopify app store has multiple third-party apps with wholesale features that cater to B2B stores.
And the prices vary depending on the features you choose, but generally, these apps start at around $30/month

Plus, $39/month for the Basic plan or $105/month for Shopify, or $399/month for the Advanced plan)
c. Building a customized B2B store from scratch by hiring a developer or a Shopify agency
If you need more advanced features, such as a custom product search or customer account management, then you may want to consider hiring a developer or a Shopify agency / Service partner that will customize your Shopify B2B store for you.
The cost of Shopify development services is based on the project's complexity and the experience of the service provider. While this option may be more costly and take longer, it allows you to design personalized features that meet your specific B2B store requirements.
Shopify B2B use cases
We see many businesses from every industry sell their variety of products on marketplaces like Etsy or Faire wholesale. However, creating your own customized B2B store on Shopify gives you much more freedom to sell wholesale and with our own pricing and discounts. There are many successful Shopify B2B stores out there. Here are just a few use cases for Shopify B2B stores:
Bulk Office Supply – An online store offering a wide range of office supplies with bulk discounts available for B2B customers.
Advertising Deals – An advertising platform that allows B2B businesses to sign up and purchase advertising packages tailored specifically to their audience.
Wholesale Store – An online B2B wholesale store where business buyers buy products in bulk quantities with different kinds of offers and discounts.
Shopify B2B examples – Stores with WPD installed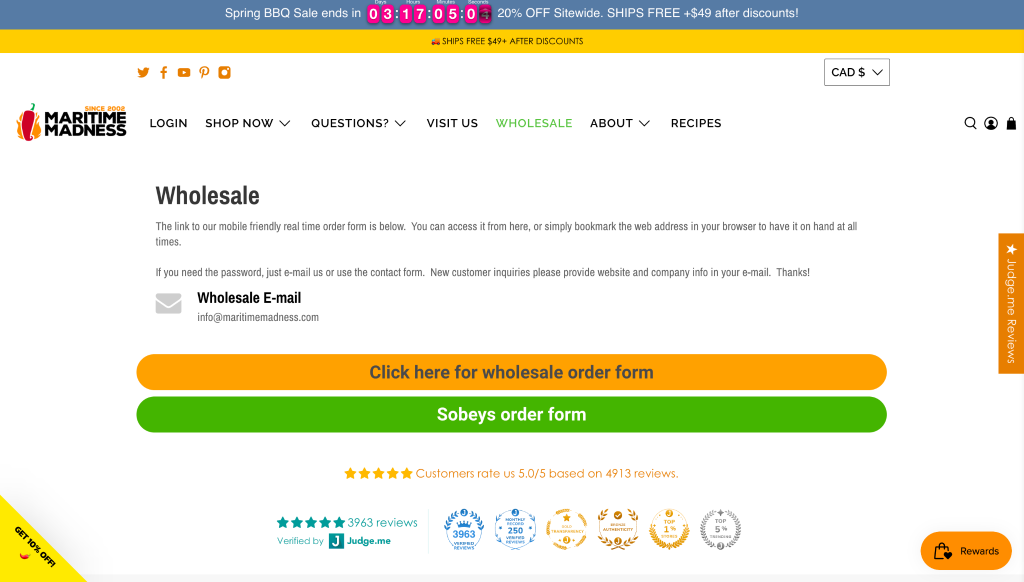 Maritime Madness is a B2B store built on the Shopify platform that sells a variety of sauces to its customers. The store has a password-protected dedicated wholesale section on their site by the name 'wholesale' where users / wholesale customers are required to request a password via email if they want to access the wholesale offers and pricing. This store is running on a Shopify Plus plan and using the Wholesale Pricing Discount app to ease its wholesale operations.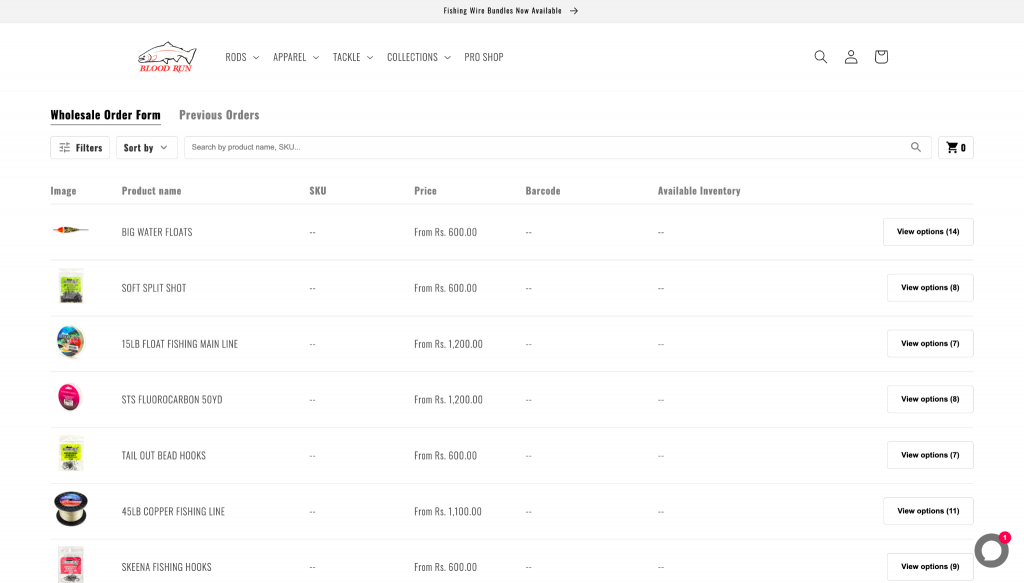 Blood Run Fishing is another B2B business built on Shopify that offers fishing-related products to their customers. The store's website has a quick order form section made available to all customers that offers them a flexible and more convenient way to order all the products from a single page. The quick wholesale order form offers features such as adding SKUs & barcodes, displaying product variants and availability and customers can also add multiple products and do re-orders with a single click.
7 steps to create a Shopify B2B without Plus plan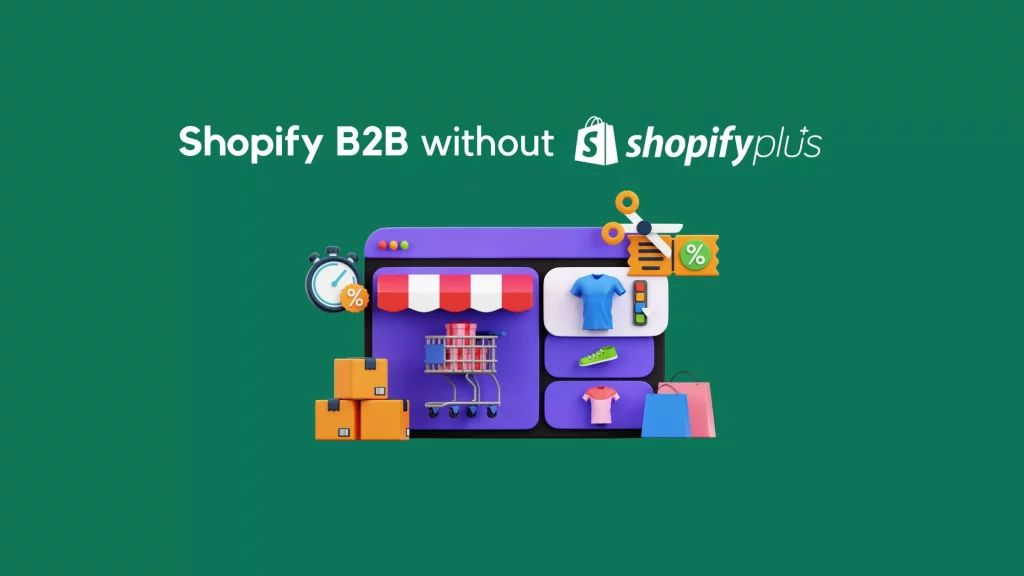 #Step 1 – Choose the right Shopify plan
To start a successful Shopify B2B store, the initial step is to select the appropriate Shopify plan. There are three main plans available: Basic Shopify, Shopify, and Advanced Shopify, each with distinct features and pricing. The Basic Shopify plan is recommended for small businesses, while the Shopify and Advanced Shopify plans are suitable for medium and large businesses. Pick a plan that is appropriate for your necessities and budget.
#Step 2 – Create a professional store design
The next step is to create a professional store design. A professional design and features like easy navigation, customizable product and collection filters, flexible product search, etc. will help your store stand out and build trust with potential B2B customers. Shopify offers a wide range of free and paid themes that you can use to design your store. You can also hire a Shopify expert to design a custom theme for your store.
#Step 3 – Install the right apps
Shopify offers a wide range of apps that can help you build a successful B2B store. Some of the must-have apps for a B2B store include:
Wholesale Pricing Discount: A wholesale app that allows you to create custom pricing and discounts for your B2B customers and helps you run a fully-fledged wholesale store.

Wholesale Lock Manager: An app that allows you to restrict access to certain products or pages on your store.

Wholesale Order Form and ReOrder: An app that allows B2B customers to order in multiple and bulk quantities on a single-page order form.
#Step 4 – Create a custom pricing strategy
A custom pricing strategy is essential for a successful Shopify B2B store. B2B customers usually buy in bulk and expect discounts. You can create custom pricing for your B2B customers using the Wholesale Pricing Discount app. You can also send individual product variant pricing, offer volume discounts or tiered pricing based on the order quantity using the same app.
#Step 5 – Optimize your product pages
Optimizing your product pages is crucial for a successful B2B store. Your product pages should be informative and detailed, with clear images and descriptions. You should also include pricing information, order minimums, and lead times.
#Step 6 – Streamline your checkout process
To run a successful B2B store, it's important to have a checkout process that's quick and easy to navigate. You can use Shopify's built-in checkout system or opt for a third-party app like Shop Pay to simplify the process. Additionally, it's a good idea to offer various payment options such as credit cards and invoicing.
#Step 7 – Provide a good customer service
Last but not least, it is really important to offer satisfactory customer service to your customers if they face any issues while placing orders on your Shopify B2B store. This involves promptly responding to customer inquiries and providing support when needed. You can manage customer inquiries and support using either Shopify's customer service tools or a third-party app.
Benefits of a Shopify B2B store
A Shopify B2B store offers several advantages over a standard B2C store when it comes to selling your products to specific customers. Here are some of the benefits:

Display discounts and wholesale pricing – Wholesale pricing and discounts are difficult to manage with a standard B2C store, but they can easily be managed in a Shopify B2B store.

Streamline processes – B2B stores often have complex order management processes that must be tracked and monitored, such as custom invoicing, payment terms, and shipping schedules. A Shopify B2B store makes it easier to streamline these processes by automating them with apps.

Higher average order values – B2B stores typically have higher average order values than B2C stores, making them more profitable.

More targeted marketing – With segmented customer accounts, you can send custom campaigns to different types of businesses and tailor your messaging accordingly.

Improved customer service – Features like account management and bulk discounts make it easier for customers to do business with you.
Conclusion
To build a successful B2B store on Shopify, you need to plan and execute carefully. This article provides helpful tips that can guide you in creating a custom and professional-looking B2B store. By focusing on your customers' needs and following the right plan, design, pricing strategy, product pages, checkout process, apps, and customer service, you can grow your Shopify B2B business successfully.
To get additional help with creating a thriving Shopify B2B store, visit the Shopify app store and explore the top Shopify B2B apps. By using the appropriate apps, you can simplify store management and enhance its potential for expansion.
Happy wholesaling!