Connect your Wholesale Pricing Discount with Zapiet – Pickup + Delivery app and allow your wholesale buyers to order and pick up products from your store with the help of Net Order checkout.
About Zapiet
Zapiet develops industry-leading store pickup, local delivery and shipping apps for Shopify. Its solutions allow retailers to offer outstanding flexibility and convenience to customers and help previously brick-and-mortar-only businesses harness the potential of an integrated online store. Founded in 2015, Zapiet now helps power 10,000 stores in more than 150 countries, from pop-up stands to Fortune 500 brands.
Zapiet and Wholesale Helper
The Zapiet – Pickup + Delivery app seamlessly integrates with Wholesale Pricing Discount to help Shopify merchants strengthen their relationship with their B2B & wholesale customers and increase business revenue.
The problem we're solving with this partnership?
Today's Shopify merchants are looking for ways to intelligently run and scale their businesses as their revenues started to grow.
With Zapiet – Pickup + Delivery app, thousands of merchants are already providing store pickup, local delivery, and shipping services to their customers.
Now, many merchants/suppliers have transitioned into bigger businesses or already have a large inventory of products that they can easily sell to B2B buyers at wholesale rates.
B2B buyers often tend to buy products in bulk from merchants and give a good profit margin on a total order quantity. But in return, some buyers want the flexibility to place an order with multiple items and at discounted prices with the option to make partial payments to the supplier.
The Shopify platform's default checkout option doesn't have this functionality to place an order with net terms. So, to solve this problem for store owners and their wholesale customers, we've come up with this solution by partnering up with Zapiet.
With Zapiet – Pickup + Delivery and Wholesale Pricing Discount, merchants can now offer a seamless wholesale pick-up experience to their B2B customers with a Net Order Form integrated into their checkout page.
​​
Image: Store Pickup integration at Checkout page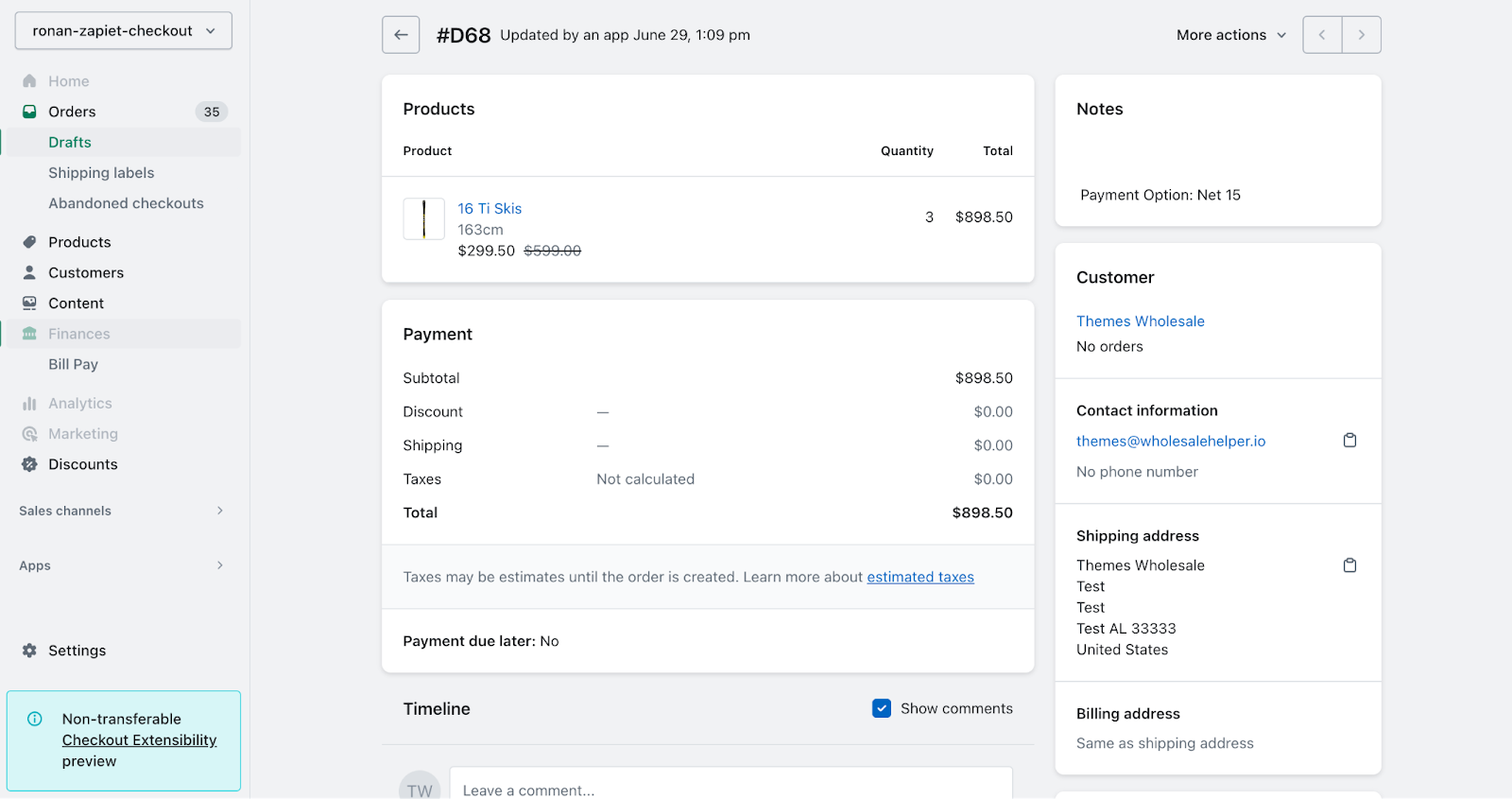 Key Benefits:
Merchants can offer net payment terms (Net15, Net30, Net60) to their customers.
Customization of the Net Order Form with the added fields like Purchase Order Number, Payment Options, Shipping Address, Delivery Date & Time and much more.
Customers can do net order checkouts directly from the order checkout page.
Requirements to add the Net Order Form at the checkout page:
An active Store Pickup + Delivery app account.
An active Wholesale Pricing Discount account.
Start selling and delivering wholesale orders with ease.
Get the Zapiet – Pickup + Delivery
---
Learn more about:
How to connect Wholesale Pricing Discount with Zapiet – Pickup + Delivery