In today's lucrative online shopping industry, brands are providing huge offers and discounts on their products in order to sell them as quickly as possible and generate revenues by making more sales. These offers and discounts include free shipping, discounts on purchasing a certain quantity of products, BNPL options, and bundle deals at special prices. These tactics make online stores more attractive and appealing to customers.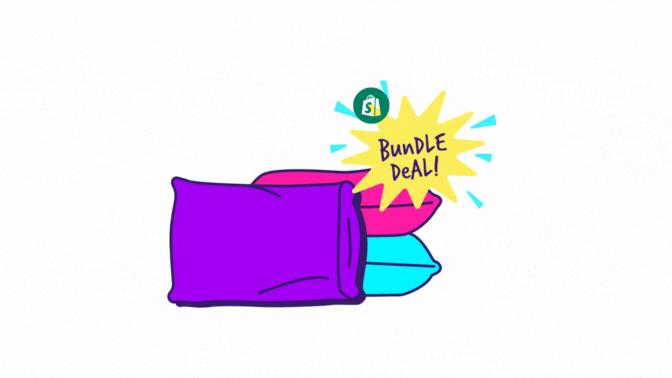 This article will focus solely on the strategy of offering bundles as a way to encourage customers to make more purchases. Specifically, we want to help Shopify merchants set up and offer bundle deals to their customers in their stores. We will also discuss some of the best bundle apps for Shopify. So, keep reading!
Read Also:
For some of you who don't know, let us first understand what a bundle offering means.
What is a bundle offering?
A bundle offering is a package of multiple products sold together at a discounted price. As a bundle offering, customers can get multiple high-priced products at a much lower price. This helps customers save more and encourages them to buy more products from your stores.
This type of promotion was popularized by the "buy one get one free" (BOGO) and "buy three for the price of two" (B3G2) offers.
For Shopify merchants, there are a number of bundle apps available that can help them set up bundle deals easily on their store without any technical knowledge or coding.
Types of bundle offerings available for merchants
Basically, the goal of the bundle offering is to sell two or more products together at a discounted price. However, there are two types of bundle offering that allows merchants to customize their products according to customer demand.
Mixed bundle: This type of bundle offering allows merchants to list multiple products from different categories, such as DVD and books. It enables customers to pick their own combination of products for the bundle.
Fixed bundle: In this type of bundle offering, merchants can create a pre-set package of products that are always sold together at a discounted price. Fixed bundles are easy to setup and customers don't have to pick the products themselves.
Benefits of offering products in bundles to your customers
Offering any kind of discount to your customers always help you increase sales in your store, but bundle offer provides even more flexibility for both customers and merchants.
For customers, it allows them to buy multiple products at a reasonable price, while merchants can sell more products in a single order.
There are numerous other advantages of offering bundles to your customers. Some of them are as follows:
Raised customer loyalty
Customers always prefer buying from stores that provide bundle deals. Offering bundle discounts helps you build a strong relationship with your customers and increase their loyalty.
Higher average order value (AOV)
Bundles can boost the average order value for merchants by motivating customers to purchase multiple products in a single go, ultimately increasing profits and product sales.
Better profitability
When you offer discounts on bundles, it not only increases sales but also helps you reduce inventory costs thus increasing the overall profitability of your store.
Now that we understand the basics of bundling, let's see how bundle offerings/apps for Shopify work.
Bundle apps for Shopify – What does it mean?
Shopify as an ecommerce ecosystem offers various categories of third-party apps in its app store. One such category is bundle apps. A bundle app for Shopify is a tool that helps merchants easily create product bundles and offer discounts on them to their customers.
The bundle apps come with various advanced features like flexible pricing, discounts based on order quantity and more. They also provide powerful analytics tools that help store owners understand which products are selling the most in a bundle.
Is it possible to create Shopify bundle products without app? (Steps on how to do it)
The answer is yes! There's an alternative way to create a product bundle offering and discount on your Shopify store but the process of creating it is a bit different but familiar and easy. Also, you get remarkably limited options to offer discounts, upsell customizations and more for that bundle offering.
Anyway, here are the steps to create Shopify bundle products without any third-party app:
Step 1: Create a new product in your Shopify store and add its name, description and price. (This will be your main product that will act as a bundle. How? Read the next steps)
Step 2: Add the variants to this product. These variants are the products you want to bundle together. (Note: If you don't want to sell these products individually then mark the inventory of each variant to 0)
Step 3: Create a new collection. Give it any name like "Bundle products" or something.
Step 4: Add the new product you recently created to this "Bundle products" collection.
Step 5: Create a discount for this collection. Sales Channel > Discounts > Create product discount See the below image: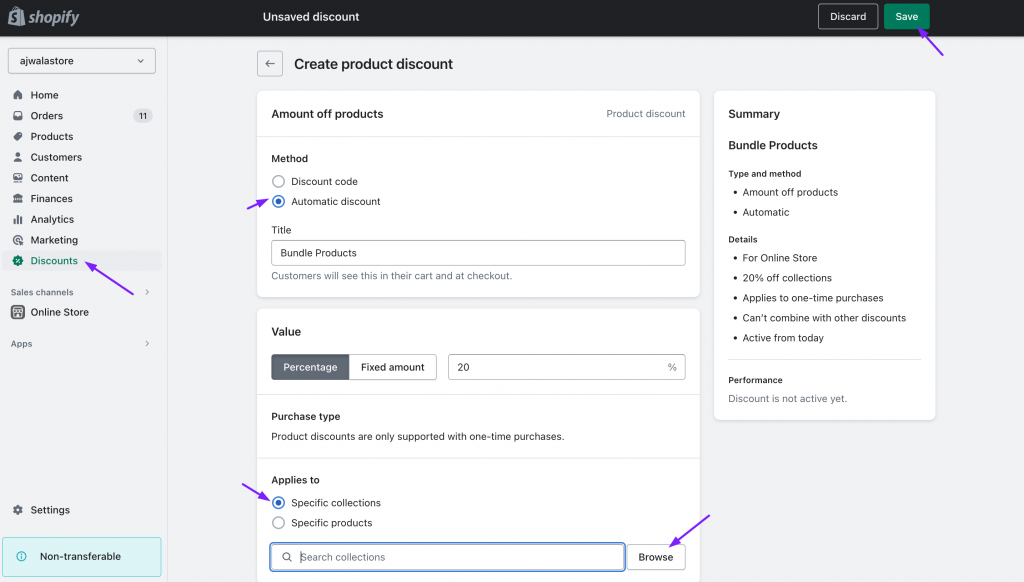 Step 6: Select Applies to as 'Specific collections'. Now, browse and the select new product collection you created. And hit the Save button at the top.
That's it. Whatever collection discount you created for your new/main product will be automatically displayed to your customer if he/she adds that new/main product to the cart.
If you want to offer more customized and visually appealing Shopify bundle products then you will have to add a third-party Shopify bundle app to your online store and customize your offerings accordingly. Let's now see some of the best bundle builder apps for Shopify.
7 Best Bundle Apps For Shopify
There are plenty of bundle apps available in the Shopify app store. You can look at it by simply typing 'bundle' in the search box. Most of these apps are free to install but with limited features. To get access to more features like upsells and discounts based on order quantity, you will have to opt for their premium plans.
Here are the top 7 bundle builder apps for Shopify that offer great features: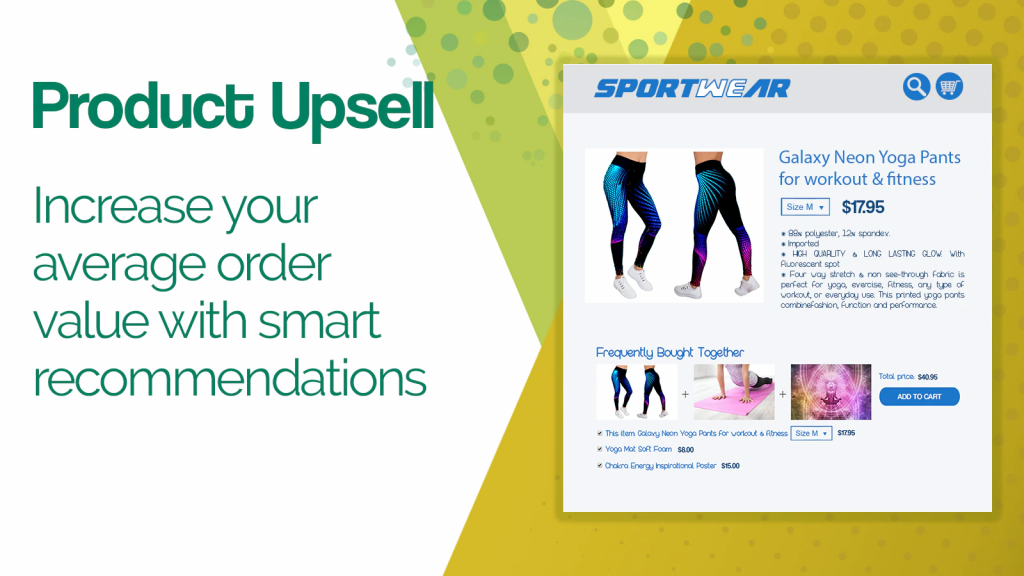 Frequently brought together is one of the most installed Shopify bundle apps in the app store. This popular app allows Shopify merchants to embed a section of frequently brought together items where all the relevant products are shown to the buyer at discounted rates. This encourages buyers to make an impulse purchase by adding all the relevant products to their carts.
Features
Display products automatically using AI-based recommendations
Create your own bundle using AI-based recommendations
Offers four types of bundle discounts
Theme customization options to display bundles
Works smoothly
Pricing and Plans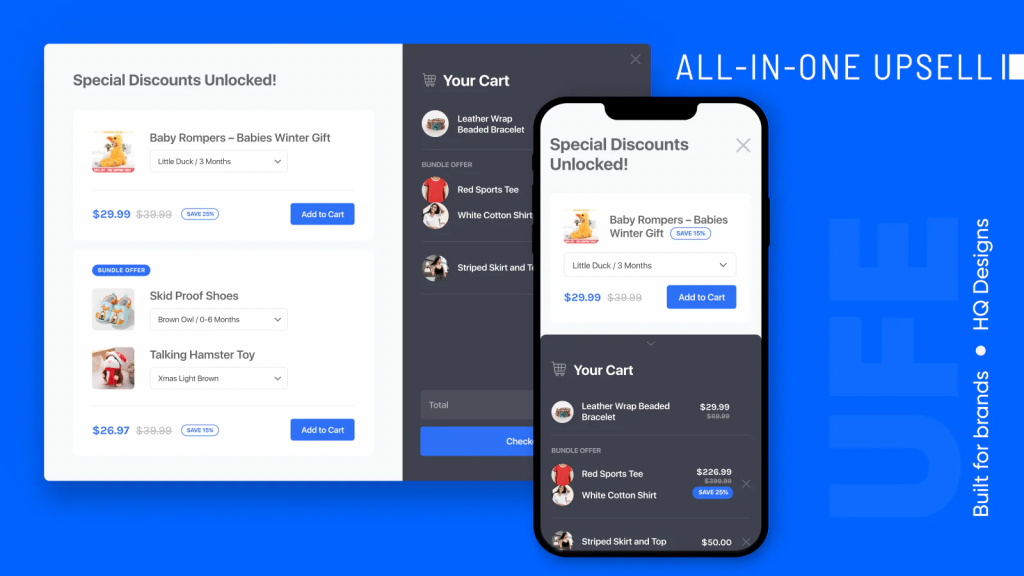 UFE Cross Sell & Unsell Bundle is another widely used bundle app for Shopify. This app lets Shopify merchants create bundles and cross-sell and upsell their products on discounts. It also provides you to easily create an upsell and cross-sell flow using their dashboard and settings.
Features
Display different kinds of pop-ups to upsell products at different places in the store
Offer volume discounts, product bundles and frequently brought together options from one place
Many customization options with nice UI features
Compatible with Shopify Markets
Pricing and Plans
Free Forever – Free
Basic – $9.99/month
Standard – $19.99/month
Premium – $29.99/month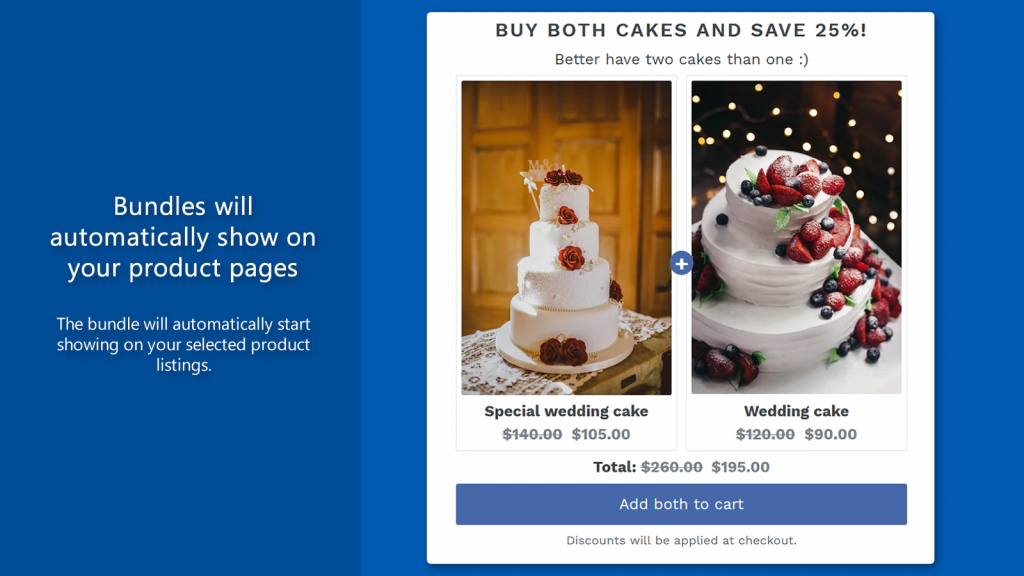 Bundler app for Shopify is a great app built for Shopify merchants to increase their product sales by displaying products in bundles with discount rates. This app is rated 4.9/5.0 and has over 890 positive reviews – which makes this app highly reliable. It offers some really amazing features to offer bundle deals on Shopify.
Features
Create and display bundles with multiple discounts and quantity-based pricing
Offer percentage discounts, tiered discounts, and more
Very much compatible with subscription apps
Different types of bundles such as frequently brought together, mix and match bundles, classic bundles, fast bundle upsell, etc.
Landing pages and custom bundle image
Pricing and Plans
Free Plan – Free
Premium – $6.99/month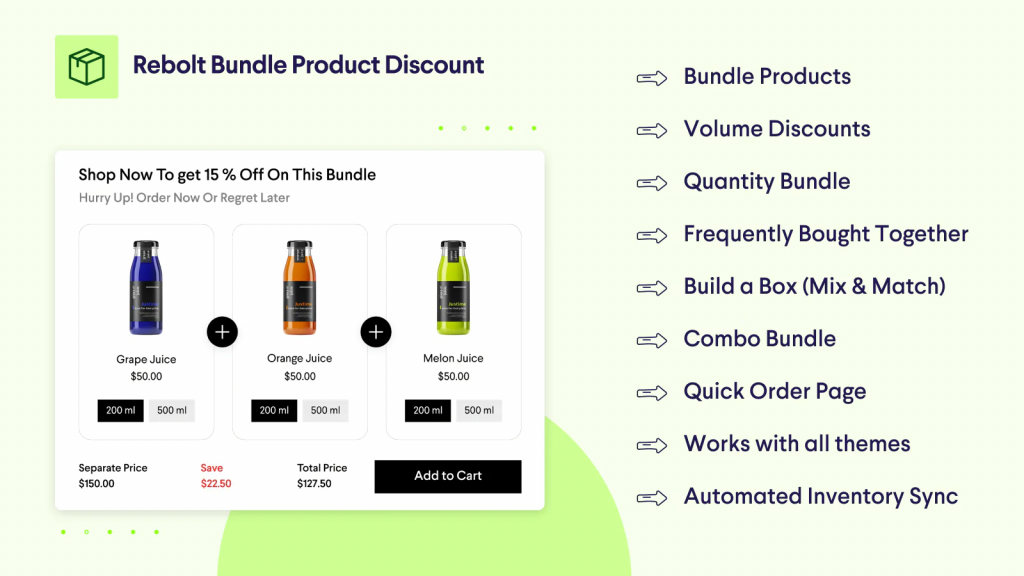 Rebolt Bundle Product Discount is another popular bundle app for Shopify store owners that provides you with a lot of features and customization options to create bundles on your Shopify stores and increase your AOV. It proposes features like product upsells, cross-sells, and tracking of all bundle purchases using analytics. Let's look at more features below.
Features
Create unlimited bundle deals and offer discounts on the same
Product bundles, mix & match bundles and quantity breaks
Add a frequently brought together section and bundle offering popups
Bundle widget customization to match your brand colors
Easily integrates with page builder apps, upsell apps and side cart apps
Pricing and Plans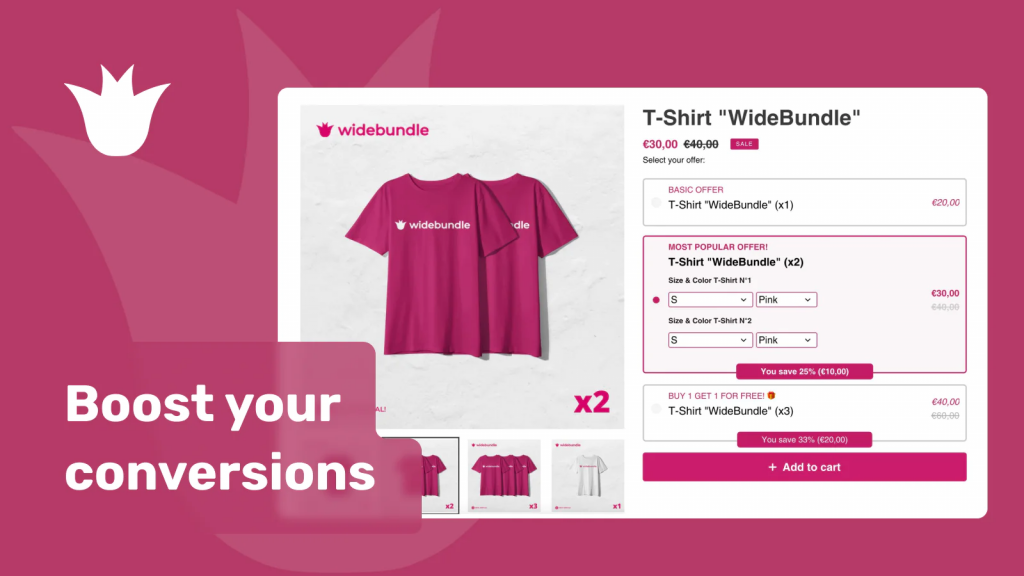 Wide Bundles is a powerful bundle builder app for Shopify store owners that allow them to offer bundles, bogo, and quantity breaks on their stores. It comes with only a single plan with a sufficient number of features that are required to offer full bundle deals.
Features
Add a bundle offer to all of your products to increase AOV
Bundle widget customization options
Add a description and custom text to increase your chances of a sale
Easy integrations with apps like cart apps, upsell apps, etc.
Pricing and Plans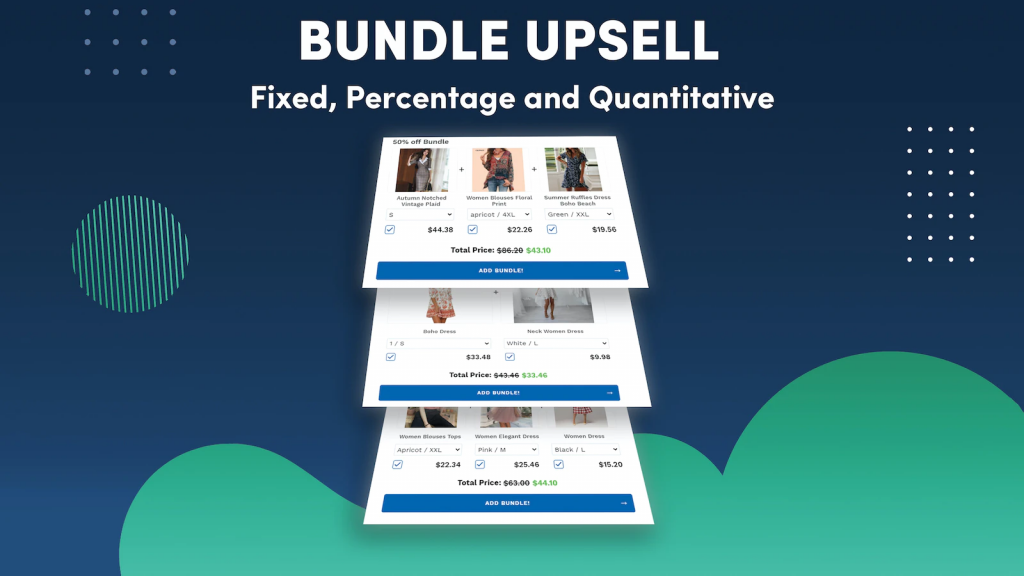 Zoorix bundle app for Shopify provides you the AI-based product recommendations to create bundles on your store. This app also helps you with multiple types of bundle deals, a custom bundle promotion page, and much more. Now, let's look at its key features below.
Features
Cross-sell with AI or manually picked recommendations
Mix & match bundles with a dedicated bundle promo page
Fixed, percentage, volume discounts, quantity breaks, and more
Variant level customization
Easy integration with cart drawers
Pricing and Plans
Forever Free – $16/month
Basic – $7.99/month
Growth – $14.99/month
Premium – $29.99/month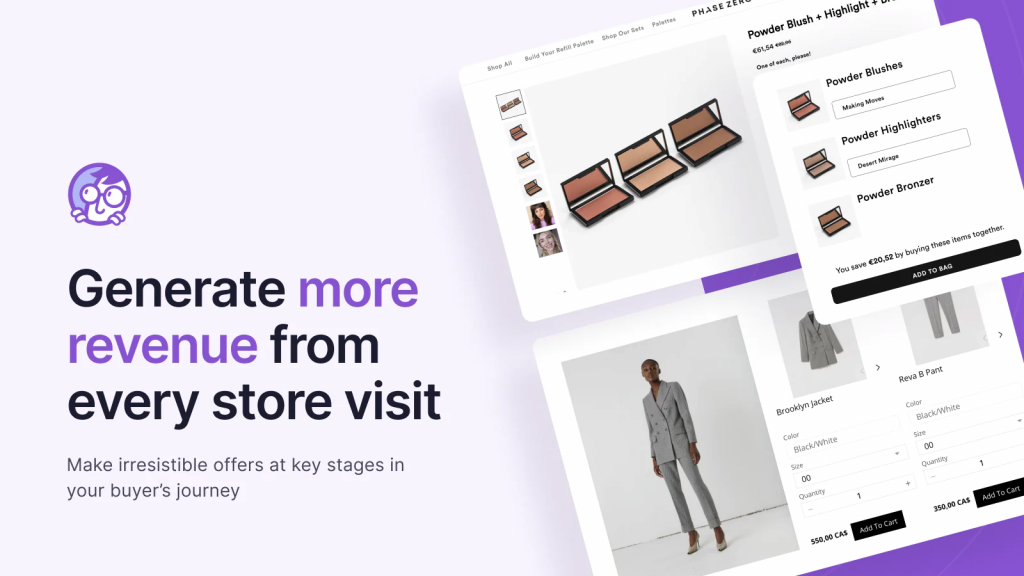 PickyStory can help you create bundles and upsell offers that increase your revenue. These offers will be displayed at strategic points in your customer's journey. You can also create customized bundle deals with manual or AI-based product recommendations.
Features
Offer custom bundle offers and predefined products bundle with discounts
BOGO, frequently bought together section and mix & match
Free shipping, gifts with progress bar
24/6 live chat support
Pricing and Plans
Free to Install and generate up to $500
Standard Tier 1 – $49.5/month
Standard Tier 2 – $89.60/month
Conclusion
Bundling is an age-old concept, it remains one of the most effective marketing and sales strategies used by e-commerce businesses to increase their Average Order Value (AOV) and revenue. Implementing Bundle apps on your Shopify store will help you easily setup product bundles and discounts for your customers. These apps can help you boost your sales and average order value without the need for technical or coding skills. To choose the right bundle app for your Shopify store, compare different options based on their pricing plans and features. Keep selling!