The craze for online shopping is burgeoning. In 2023, experts estimate that 218.8 million US users will shop online. When a business has a significant online presence, it attracts more potential customers and builds brand recognition. It is a long-term investment and provides enormous revenue for business owners.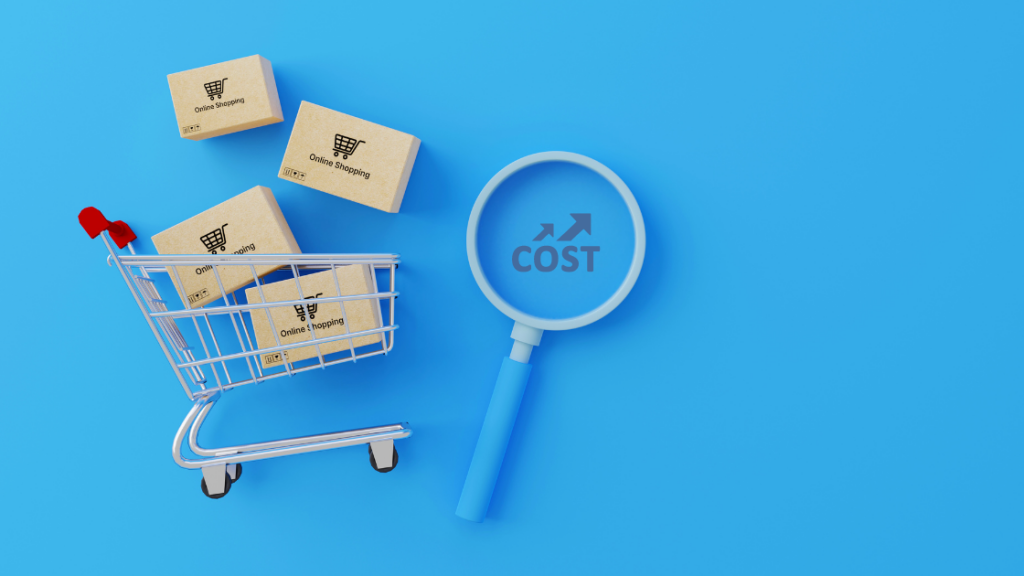 However, it can be challenging for business owners to estimate the cost to build an ecommerce website. A website has many components, and each one affects the final expense. The selection of the best platform for your website and the add-ons you can purchase depends on how much you can spend. You can find yourself overspending if you do not have a defined budget.
Primary factors affecting the cost to build an ecommerce website
The following mentioned factors play a crucial role in the cost of creating a website:
1. Design & template of an e-commerce store
The overall design of an e-commerce website is a crucial cost factor that plays a vital in the business's success. The eye-catching website design helps transform a visitor into a potential customer. So, it is always a smart move to hire an expert to handle it for you. However, the expense of an attractive logo for your website might range from USD $20 – $100.
An outdated website design can give visitors a negative impression of the business. It implies that there is a chance of losing customers. Your company needs a web design that complements your brand to prevent this from happening.
A responsive eCommerce website can cost as little as $10,000 to $250,000 or more, depending on the requirements. You have the option of using a paid template or a free existing template. A premium theme may cost between $ 20 and $ 120.
2. The page count of a website
The page count of your e-commerce website can influence its developing cost. E-commerce websites often need more pages than other business websites. Although more pages may increase the cost of creating a website, it is crucial to understand that each page can quickly return its worth through high product sales.
Your e-commerce site should have a separate page for each of your products. As the business develops, you need to consider adding additional pages to accommodate the expanded selection of products. With this strategy, your website will remain dynamic and sales-optimized.
Categorizing pages can help in displaying all of your products. Besides that, having personalized profile pages for registered users on the website can also attract potential customers.
While it may need substantial initial investment and incur increased costs for designing the e-commerce website, it can offer greater long-term revenue potential.
3. Copy and content
Every website, including e-commerce stores, needs copywriting. The only thing about e-commerce websites is that it requires fewer text-only pages than other websites. There is a need to pay attention to the crucial pages, which include privacy policies, terms and conditions, and many more.
You can also create pages to display your products under specific categories. The number of words you want to add to your pages will determine the copywriting charges.
Brief pages with a few hundred words and no pictures will not cost anything. However, if a page includes 3000 words, subheadings, interactive elements, JavaScript inserts, and special coding, it will increase the e-commerce website design expenses.
Nevertheless, you still get value for your money. Longer pages perform better in search engines, whereas shorter pages are perfect for delivering information in a few seconds.
For an e-commerce website, an effective combination of both sites can bring in a lot of new visitors and clients.
Also Read – Shopify Website Builder: All You Need To Know
4. Other Functionalities
When developing an e-commerce website, it is necessary to incorporate all the functionalities, including customization, consumer identity protection, checkout procedures, shopping carts, and many other functionalities.
Also, while listing or adding new products to your store, you can even show multiple images or videos of those products to look more enticing. Due to regulations, for some products, you may also mention additional information like specification sheets, MSDS sheets, and other documentation. These things can take some time to figure all of that out, so it is better to consult a web designer or developer for advice on how to proceed with your particular website. This can also cost you a good amount of money.
5. On-Page SEO
Search engine optimization (SEO) for your e-commerce store refers to making changes to the website to improve its visibility in the Google search engine. Also, it plays a significant role in the e-commerce website's long-term performance.
A higher search engine ranking is essential to boost revenue because it can attract customers. Otherwise, the constant flow of new and returning consumers will stop what you require to be in business.
Regular investment is necessary for e-commerce SEO. Maintaining a high ranking in search engines takes a lot of work but helps to keep your competition away. Regularly updating the website is essential for attracting new visitors. Therefore, SEO is a continuous process.
Failing to do so can result in the business lagging behind its rivals. Thus, there is a need to allocate a budget for this ongoing website expense.
6. Database integration
For a website, database integration is usually optional; however, e-commerce websites must integrate databases.
By utilizing database integration, your company can store all of its data, including clients, employees, and products. Therefore, database integration is essential if you want your entire organization to have access to a shared hard drive containing all information.
However, there is a need for database integration for customers. A database lets users register on your website, specify preferences, and have a more customized experience.
Clients will not require to enter their credit card numbers again because database integration can save them. If the clients do not want to store credit card details, they can simply store their usernames and passwords.
Database integration is a cost to consider when developing an e-commerce website, whether you want to ease customer shopping experience or expedite company communication.
Conclusion
Due to the rising popularity of online shopping, e-commerce websites have become crucial for developing a company's online presence. The development cost of these websites will depend on several variables, including page count, web design style, content, SEO, database integration, and functionality.
Set a defined budget and consult with professionals to create an intuitive and profit-generating e-commerce platform.